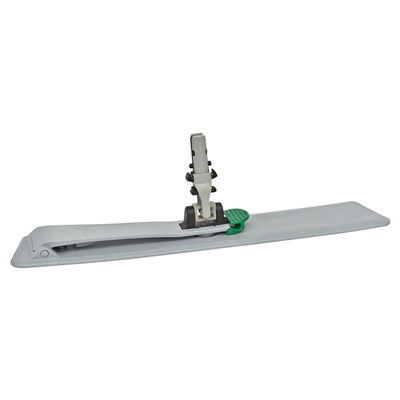 High-quality and sustainable flat mop system.
- Ideal for places with high hygiene standards.
- Innovative magnetic fastening that fixes the mop in the ideal position for an entire lifetime, simply with one click.
- Extra hygienic in use, since the frame can be opened using your foot, allowing the mop to be removed from the frame without coming into contact with your hands.
- Light and ergonomic in use.
- The smooth, taut finish prevents dirt from sticking.

Instruction manual
1. Click on the green handle with your foot to open the frame.
2. Slip the mop onto the frame, locking onto the magnets by pushing down on the handle.
3. Mop the surface to be cleaned.
4. Remove the mop after use by simply releasing the clip with your foot.
5. The frame can be easily washed and disinfected

Specifications
Reference: 3302015 Quantity per packing: 10 pieces Dimensions: 50 x 10 x 6 cm Weight: 480 g Barcode: 8716254006485
Why you should choose Click'M C instead of Velcro?

Click'M C is more hygienic in use. You do not touch the mop with your hands when removing it. Furthermore, dirt can accumulate in the Velcro. The Velcro also determines the lifespan of a mop. When used frequently, the Velcro will not adhere as well as a result of wear and tear. This is not the case with the Click'M C. The unique magnetic closure ensures lifelong adhesion.

Click'M C