Sprenkler Ergo Handle with Integrated Reservoir - 145 cm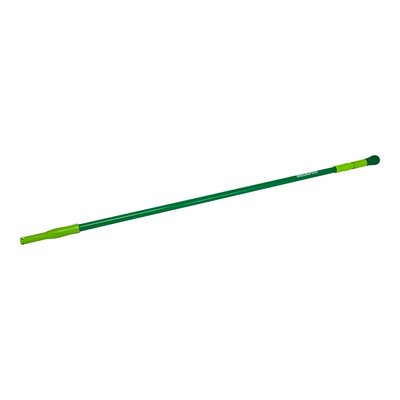 Aluminium handle with an integrated water reservoir.
- Controlled water use for the shortest possible drying time.
- No more lugging buckets.
- High mobility.
- Easy to use with an ergonomic & soft handle.
- Rubber grip is also anti-slip helping the handle to stay up against the wall.
- The reservoir can contain 450 ml water, which is plenty to clean up to one-hundred square metres.
Instruction manual
1. Unscrew the green cap on top of the handle.
2. Fill the reservoir with tap water using the enclosed fill bottle. Screw cap back.
3. Press the green cap on top of the handle to dispense tap water behind the mop through the triple-spray nozzles.
4. Spray and wipe the floor using a circular movement. Start from a corner and wipe the floor clean towards the door.
5. To ensure a long lasting use of the Sprenkler handle, empty the reservoir after each use.

Specifications
Reference: 3301200 Quantity per packing: 10 pieces Dimensions: 0 x 0 x 145 cm Weight: 460 g Barcode: 8716254008021