Greenspeed's ambition is to develop ecological cleaning agents that have a positive and restorative effect on people and the environment. We want to make products where there is no such thing as waste. We pursue this vision in our innovations, where our dream is to always make them circular, healthy and surprisingly effective.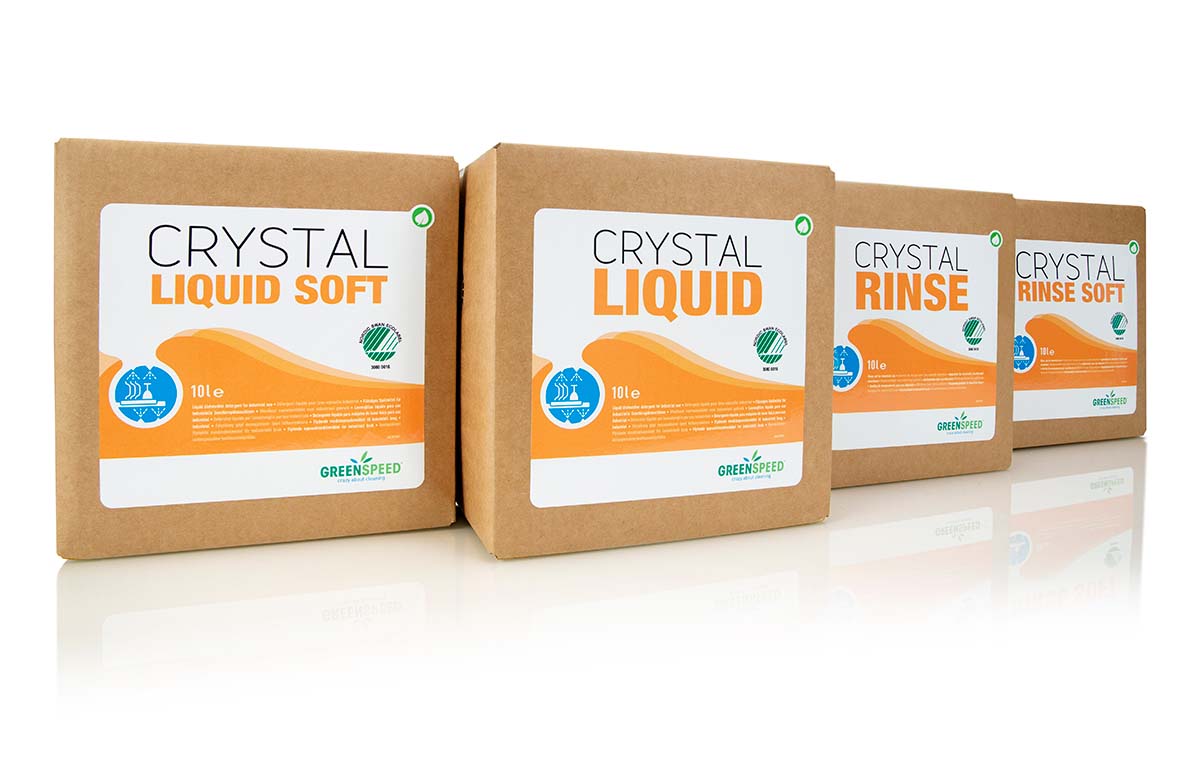 Crystal bag-in-box
The Greenspeed Bag-in-Box range contains a highly concentrated liquid dishwasher detergent & rinse aid based on renewable ingredients.
This is a powerful degreaser and hygienic cleaner with an effective formula. The closed system is particularly safe to use, making it perfect for industrial kitchens. The products are also Nordic Swan certified.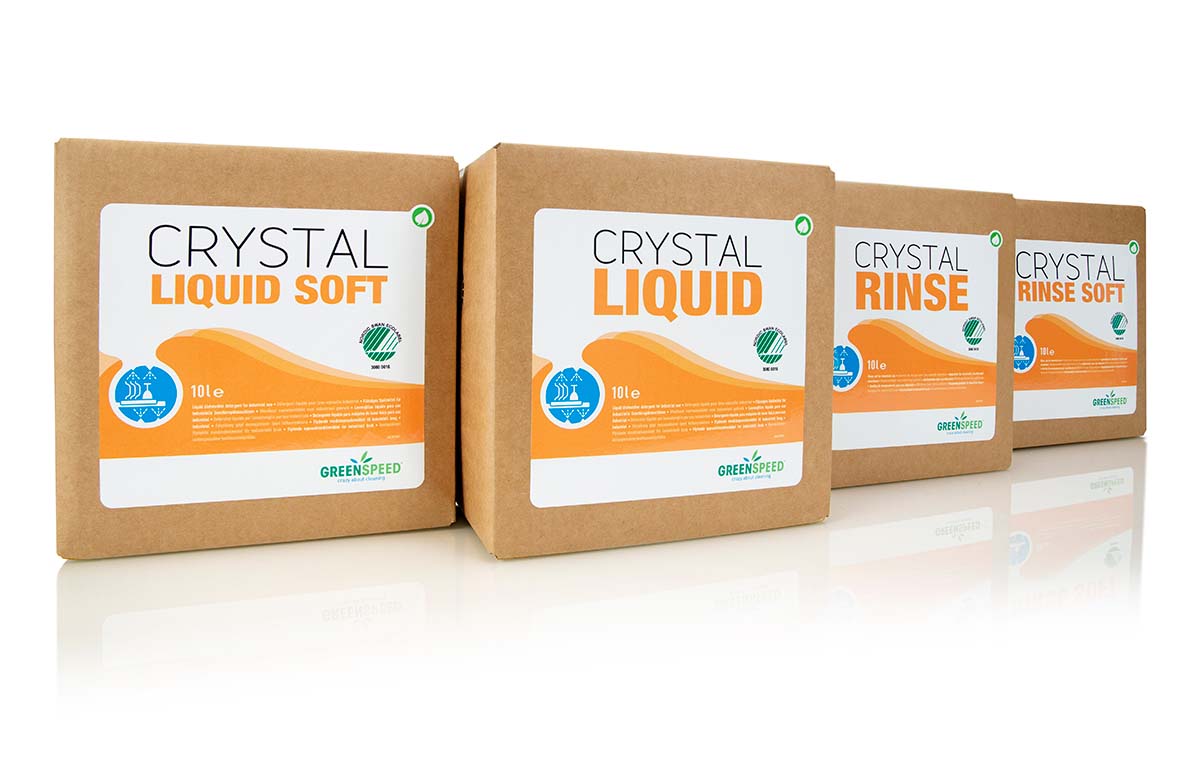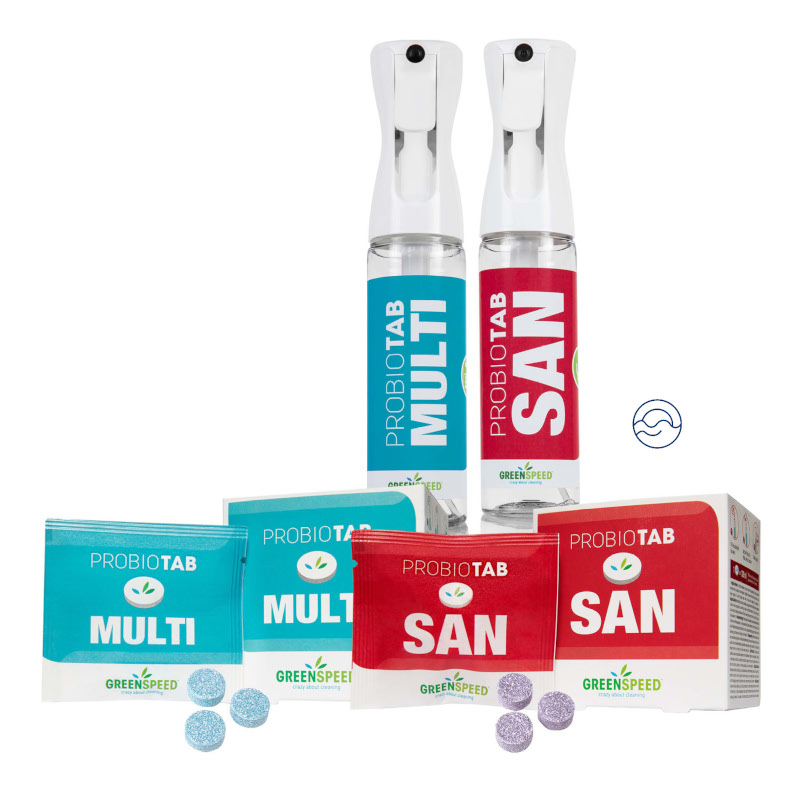 Probio Tabs
Greenspeeds Probio Tabs are the perfect solution to eliminate single-use plastic.
Probio Tab Multi and Probio Tab San are cleaning tablets for your interior and sanitary cleaners. Thanks to the efficient tablet shape we do not have to transport unnecessary water. This saves up to 99% CO2 during transport and up to 99% in storage space!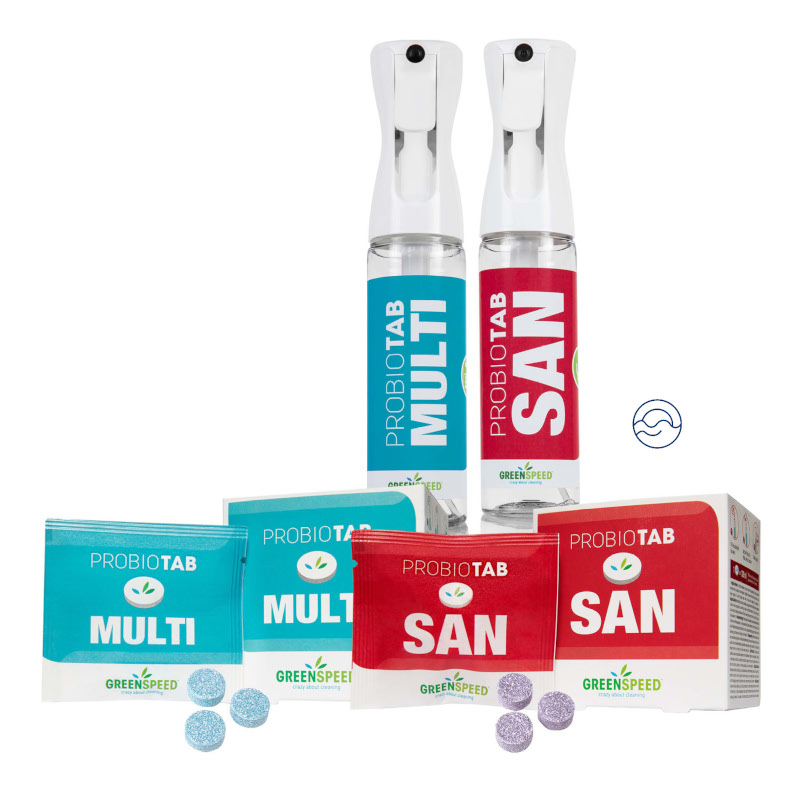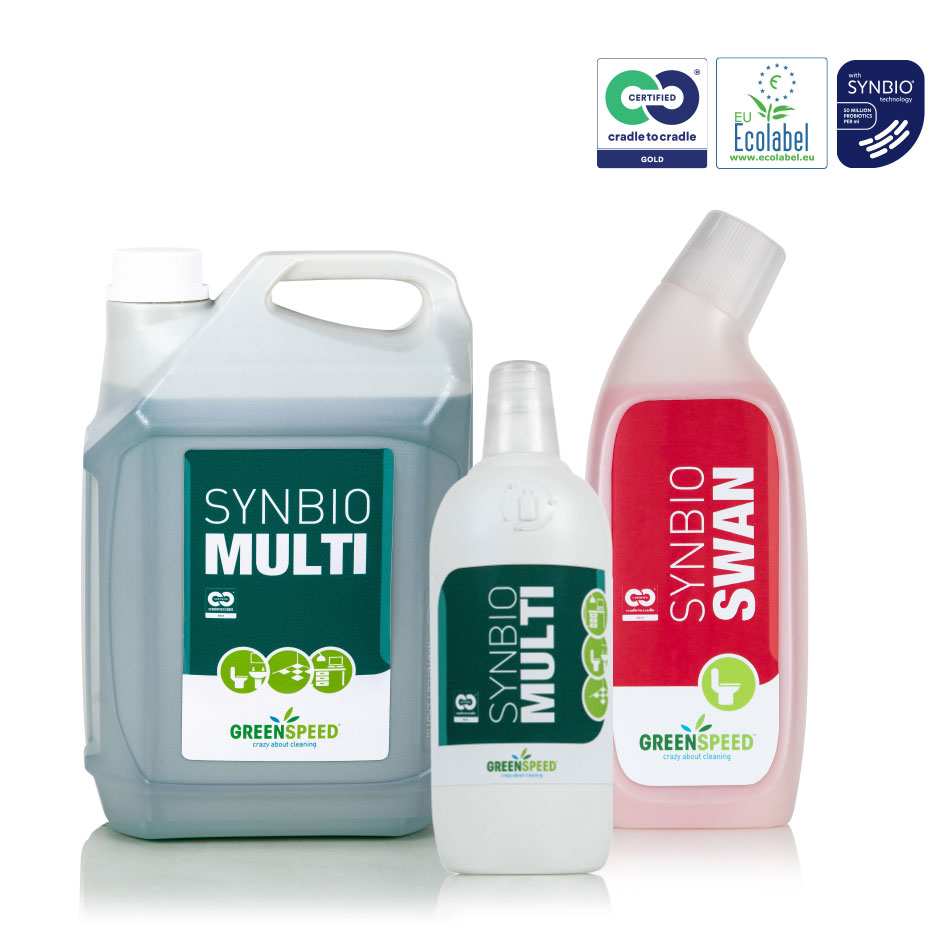 Synbio all-purpose cleaner & toilet cleaner
Discover Greenspeed Synbiotics for a Synbio range that combines all the benefits of probiotics with an accelerated effect and the preservation of the natural balance.
Today, products with chemicals that are harmful to people and the environment are used far too often. Greenspeed offers a solution for this: Synbiotic cleaning agents with pre- and probiotics.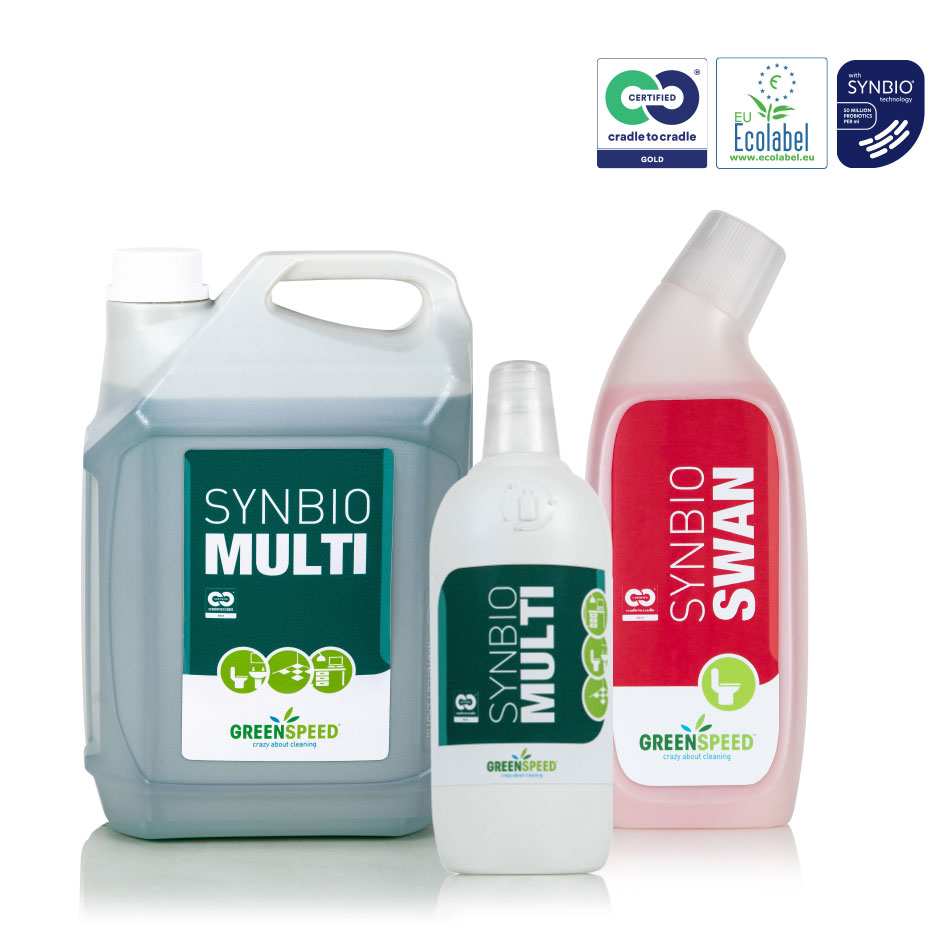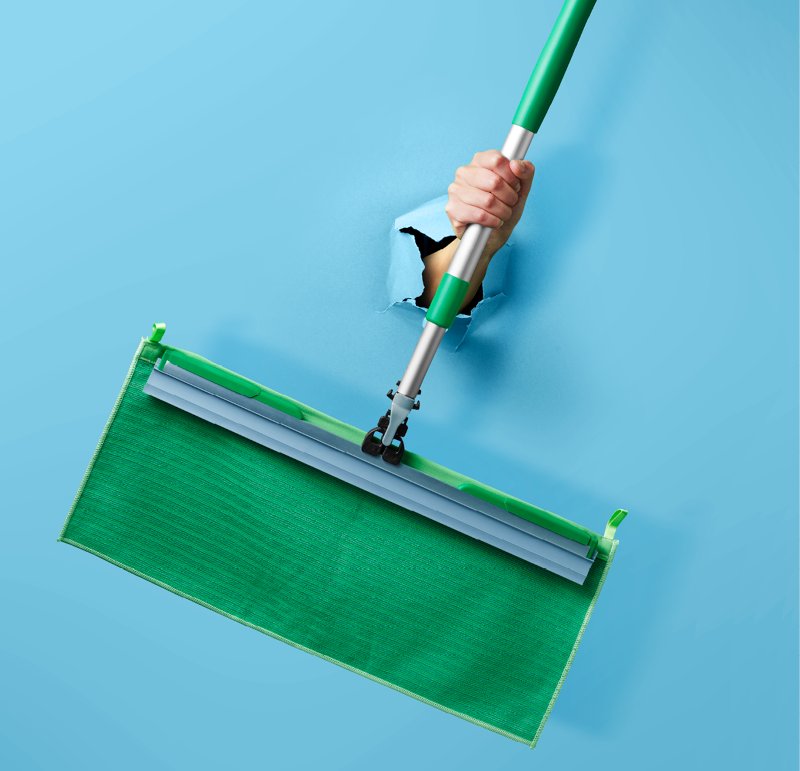 HYDRA: A POWERFUL, LIGHTWEIGHT FLOOR CLEANING SYSTEM
Hydra is a super agile and hygienic floor squeegee and flat mop system. The floor squeegee concentrates all its power on a narrow strip, which results in unique cleaning power. Combine the floor squeegee with a high-quality microfibre cloth for fast, effective cleaning results.
The compact microfibre floor cloths need far less water than standard mops and floor cloths.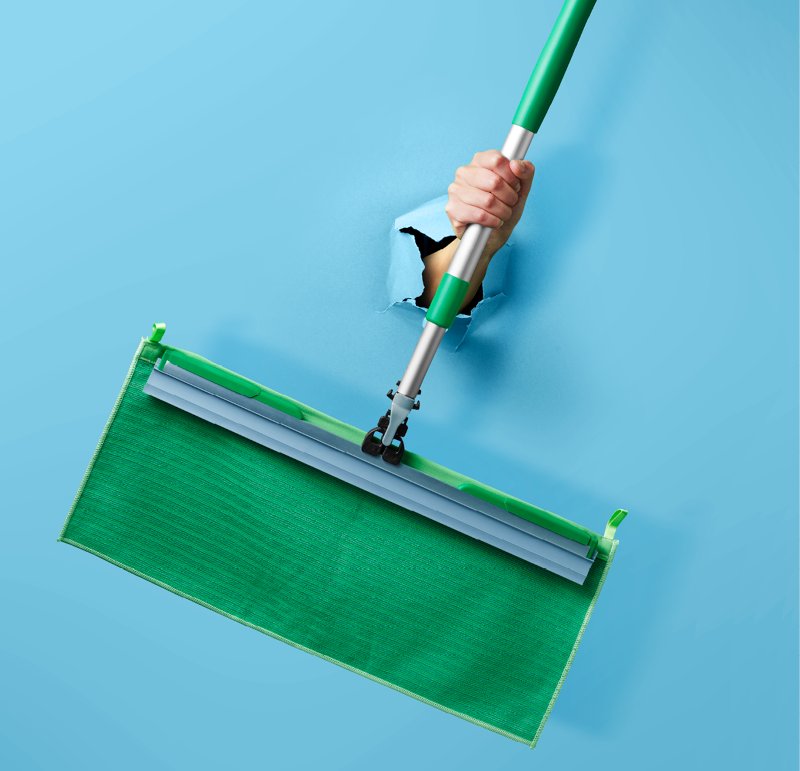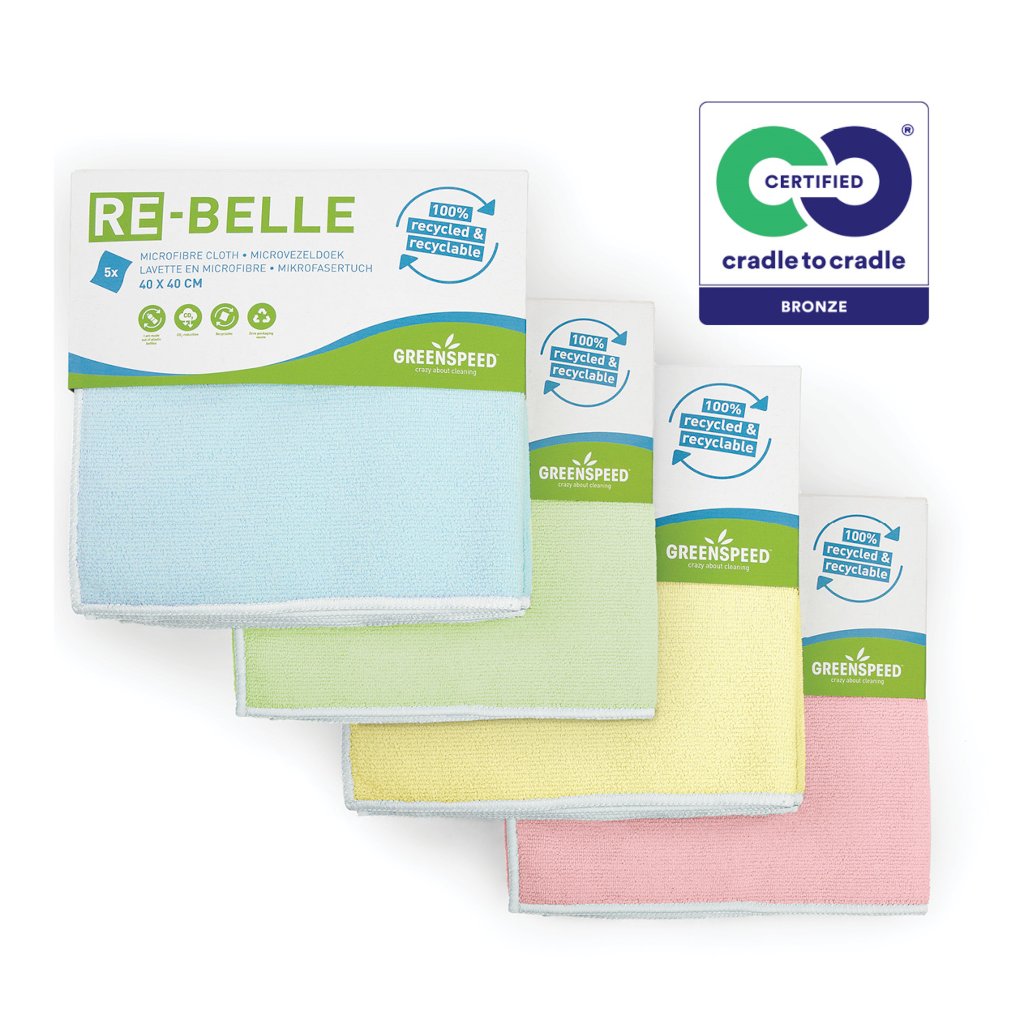 Re-belle circular microfibre cloth
Re-belle is a fully circular microfibre cloth: 100% recycled, 100% recyclable. After use, the cloth is given a second life to help reduce the mountain of waste! Re-belle is now world's first circular microfibre that is Cradle to Cradle Certified® Bronze. In assessing the entire life cycle, the following five C2C pillars were examined: Material Health, Material Reutilization, Renewable Energy, Water Stewardship and Social Fairness.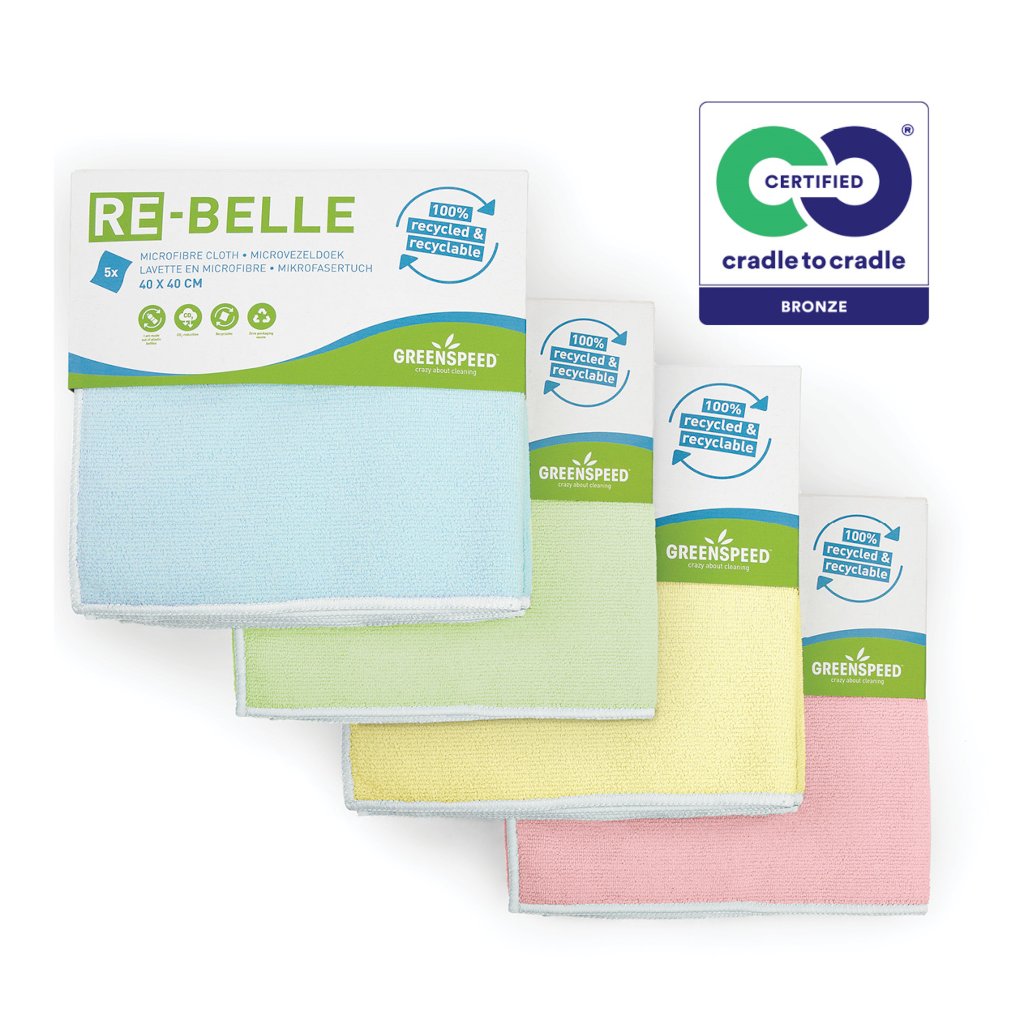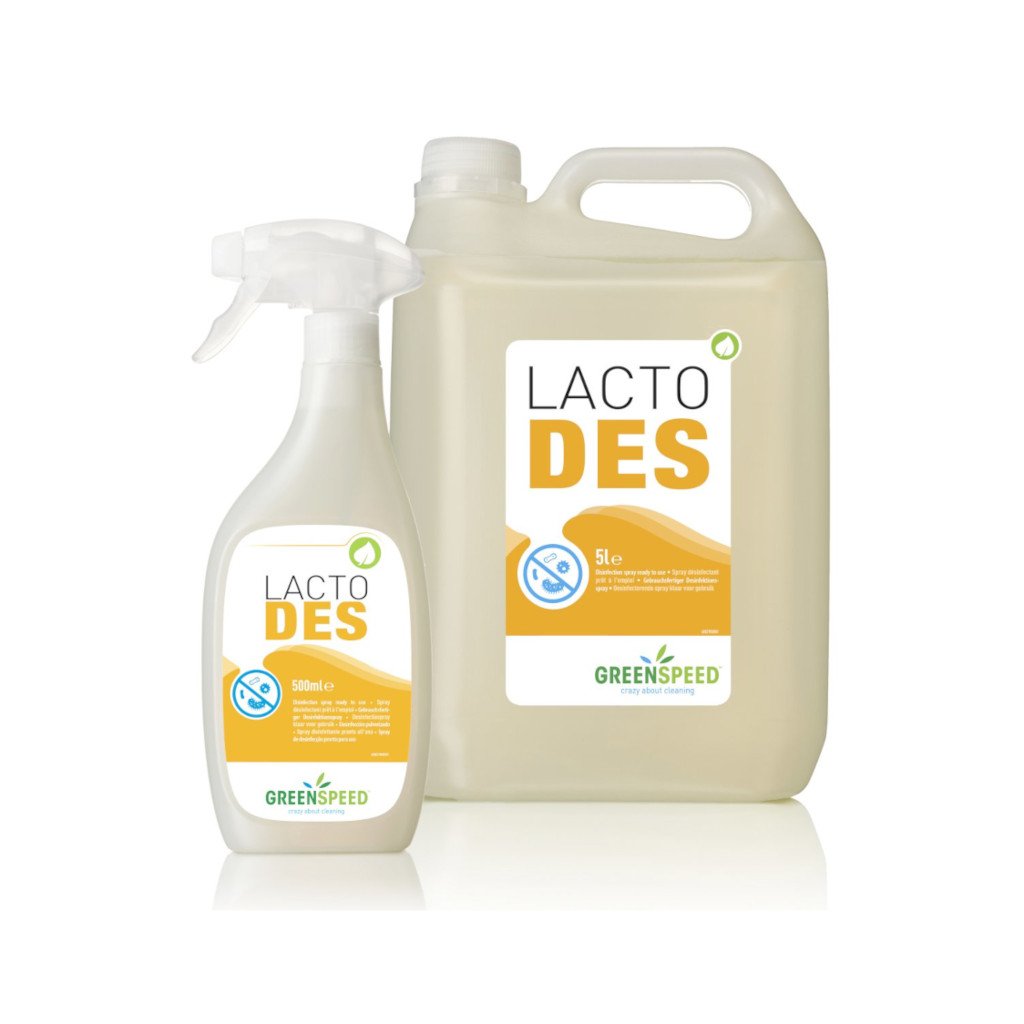 Lacto Des disinfectant
Lacto Des is a powerful disinfectant with plant-based ingredients. It is safe, efficient, ready to use and registered (registration: EU-0006622-0018). Lacto Des is based on lactic acid and contains no chlorine or alcohol. The product can also be applied to food contact surfaces.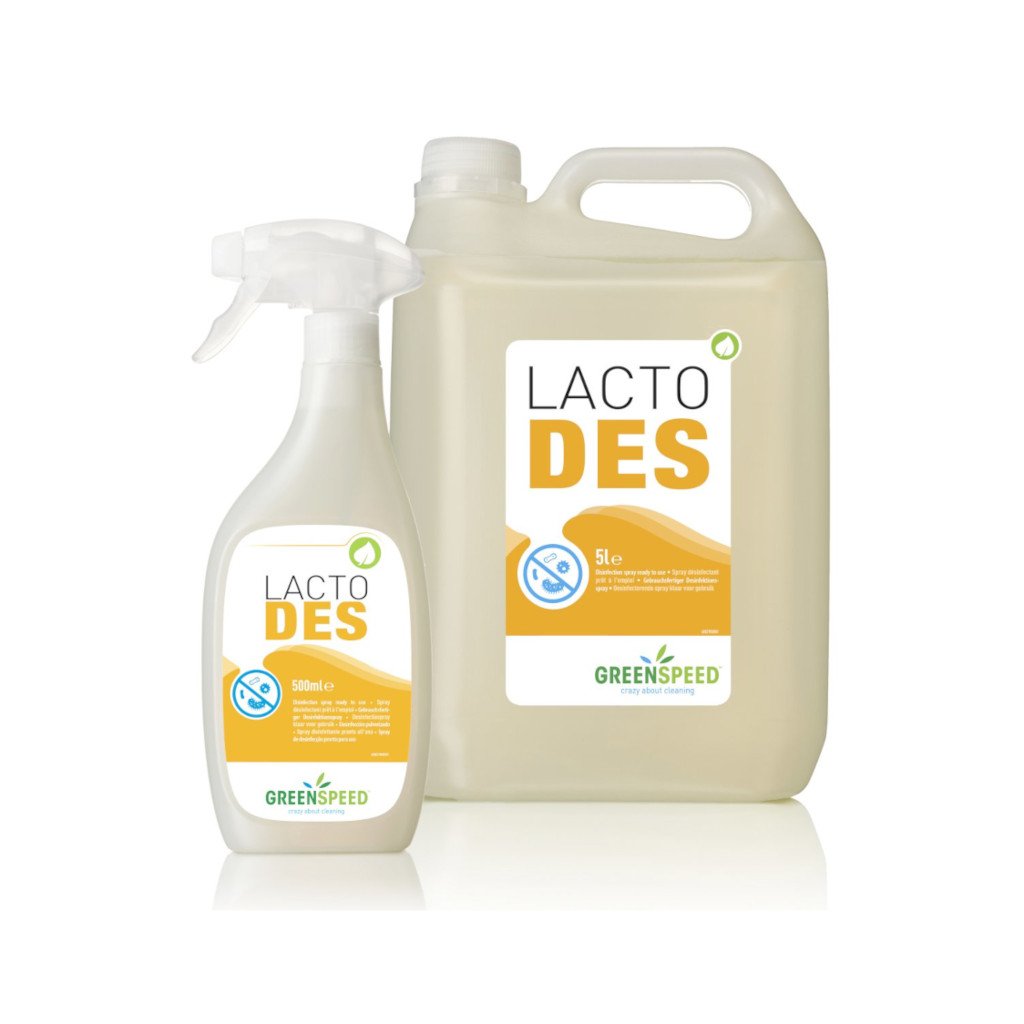 C-Shuttle cleaning trolleys
Quality is at the heart of the new C-Shuttle range. The cleaning trolley is convenient to use, light and easy to steer - even when carrying a load of up to 200 kg. We care about the environment, so the cleaning trolley is made of recycled materials (> 90% recycled PP). Special requests? Doors can be personalised with a design or logo. And we go a step further, too. The modular system means there are so many combinations available so you can make a cleaning trolley completely tailored to your needs!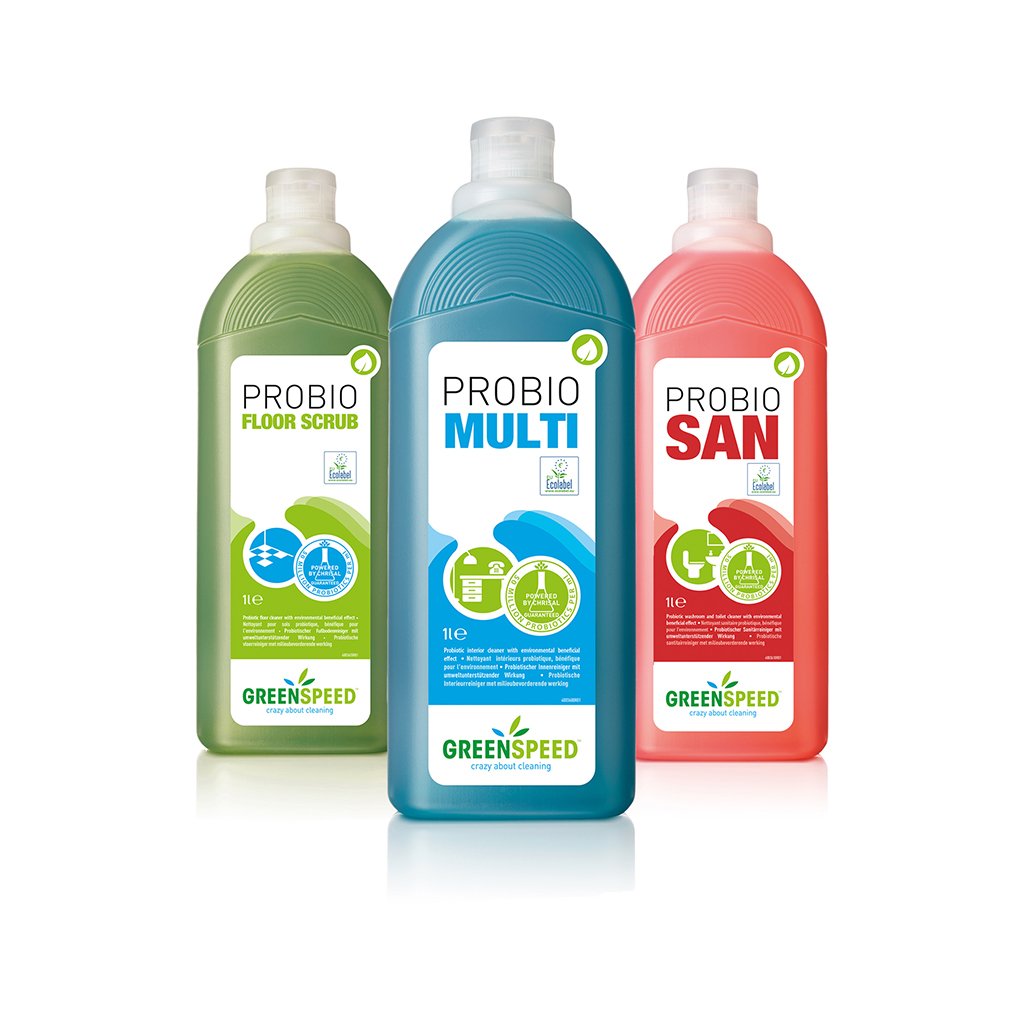 Probio detergents
Greenspeed has developed probiotic cleaning agents, which ensure optimal, sustainable cleaning. In addition, the products are ideal for tackling odour problems and are safe to use. The probiotic products consist of friendly micro-organisms of organic origin. The products are not just environmentally friendly – they actually enrich the environment.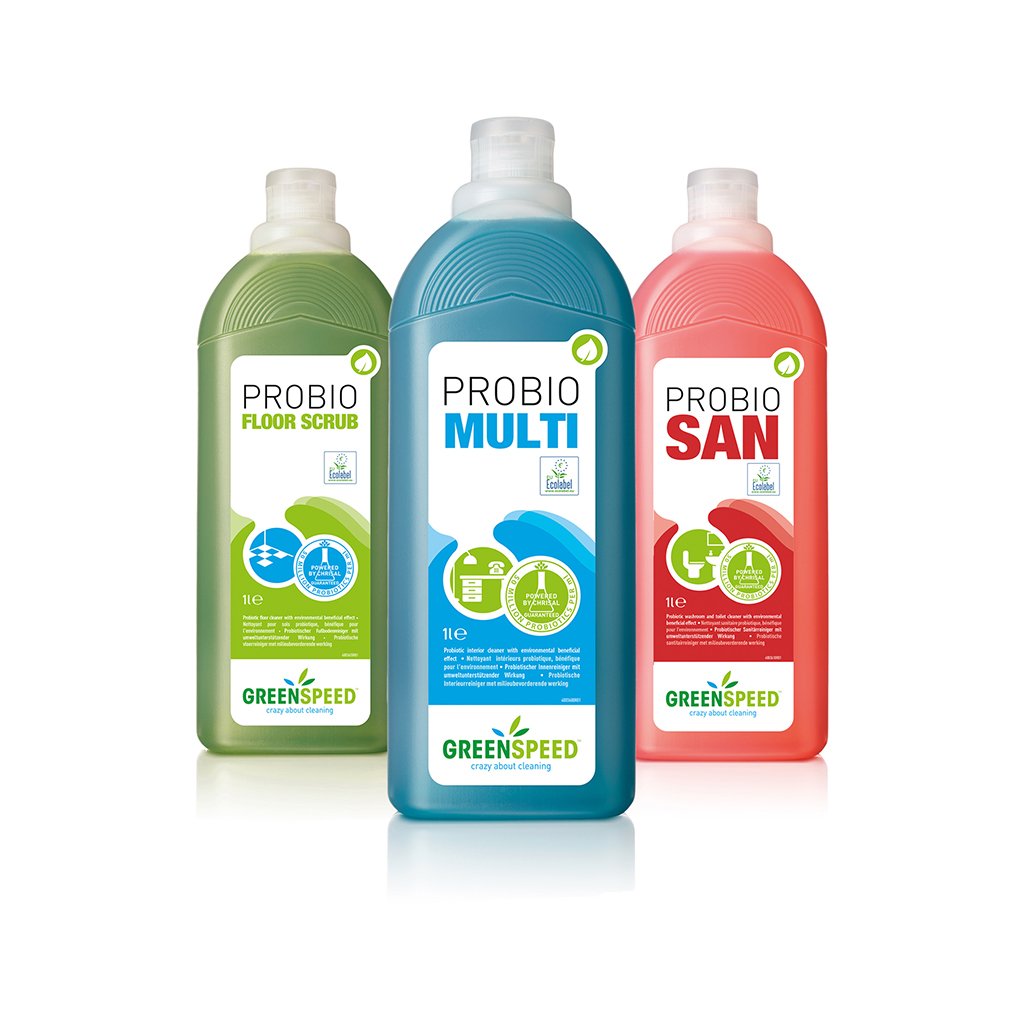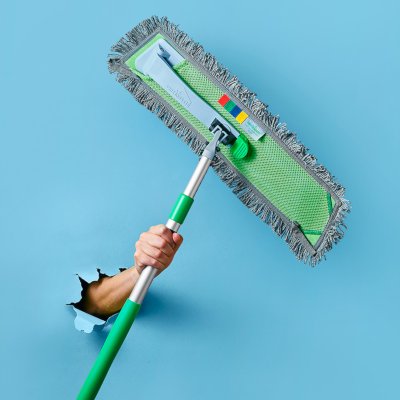 Click'M C flat mop system
With the Click'M C, Greenspeed introduces an innovative magnetic flat mop system. In just one click the magnetic fastening immediately locks the mop into place. Then it's ready to start cleaning! Afterwards, removing the mop head can be done completely hands-free. In short, the magnetic CLICK'M C system is more user-friendly and hygienic than ever before.