C-Shuttle Range: Put together your own cleaning trolley!
A cleaning trolley that is functional, sustainable and stylish?
The C-Shuttle is an innovative cleaning trolley. It makes cleaning efficient. The cleaning trolley is convenient to use, light and easy to steer - even when carrying a load of up to 200 kg. The cleaning trolley can be closed locked and offers a range of handy storage options.
We care about the environment, so the cleaning trolley is made of recycled materials (> 90% recycled PP) and it is recyclable.
Special requests? Not only do we have standard models available, but we have a number of options that let you put together your own C-Shuttle.
What makes the C-Shuttle special?
Modular design

Special requests? The modular system means there are so many combinations available that you can make a cleaning trolley completely tailored to your needs. The perfect cleaning trolley can be created for any mop system and for any working environment so that you can work efficiently. The C-Shuttle can also be adapted to meet your changing needs, allowing it to continue to be used and have a long lifespan.

Personalisation

The C-Shuttle is elegant and has a luxurious appearance. You can also add a personal touch to your cleaning trolley! The trolley's doors can be printed with your own design or logo.

Comfortable and safe to use

The trolley is easy to manoeuvre and steer, even when carrying loads of up to 200 kg. High-quality whisper wheels let you move the trolley across a variety of different floorings without making a sound. These rubber wheels also avoid dirt building up and they can also be disinfected. The cleaning trolley offers lots of handy storage solutions and is fully lockable. This gives your documents and cleaning materials extra protection.

Sustainable

We care about the environment, so the cleaning trolley is made of recycled materials (> 90 % recycled plastic) and is 100% recyclable. The C-Shuttle can easily be adapted for other uses. This encourages re-use.

Qualitative and reliable

The C-Shuttle has a strong base. The doors and panels are double-walled, making them sturdy and high-quality. The trolley is built around an aluminium structure.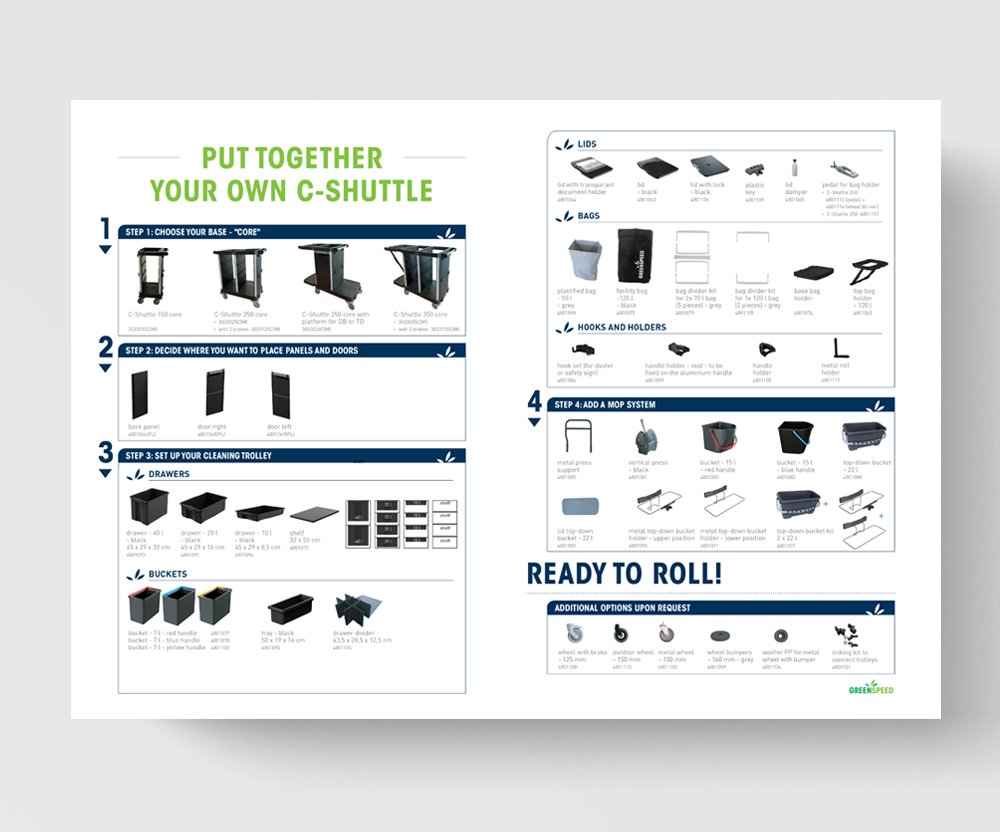 Step-by-step plan for your own personalised cleaning trolley
Choose your base
Decide where to place panels and doors
Set up your cleaning trolley with

Drawers
Buckets
Lids
Bags
Hooks and holders

Add a mop system

Ready to Roll