Re-belle: the 100% circular microfibre cloth that rebels against waste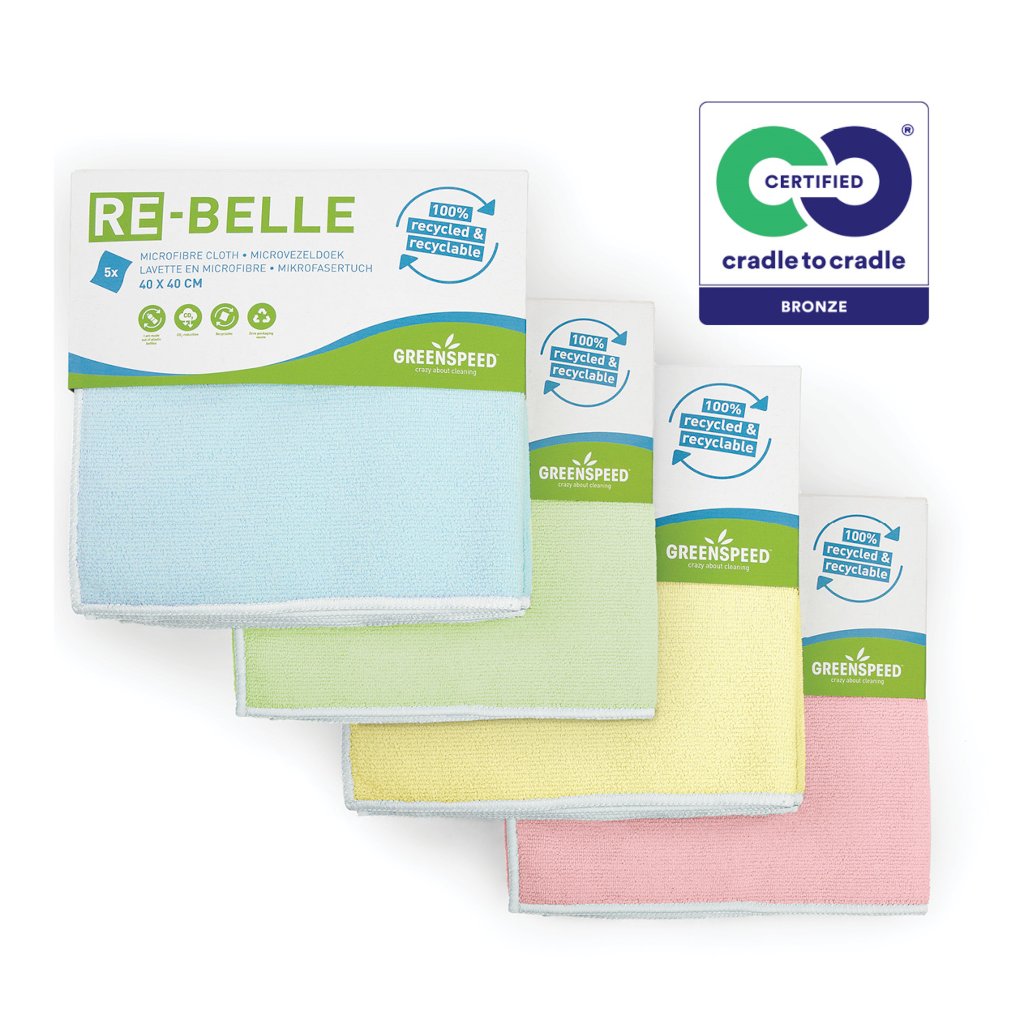 Re-belle is a fully circular microfibre cloth: 100% recycled, 100% recyclable. After use, the cloth is given a second life to help reduce the mountain of waste! Re-belle is now world's first circular microfibre that is Cradle to Cradle Certified® Bronze. In assessing the entire life cycle, the following five C2C pillars were examined: Material Health, Material Reutilization, Renewable Energy, Water Stewardship and Social Fairness.
Re-belle also has high cleaning power, a high absorption capacity and a long service life. Thanks to the high-quality microfibre material, surfaces are cleaned efficiently with a minimum amount of water.
Want clean up your routine and switch over to circular cleaning?
Request your offer
What is a circular economy?
In a circular economy, products and their materials stay in the circle for as long as possible while retaining their maximum value. This ensures that products, components and raw materials have the longest possible life cycle. After use, a product is recycled and the resulting raw materials can be used again to manufacture a new product.
From PET to high-quality microfibre cloth? that is Re-belle!
Re-belle is made in a closed circle. Watch the video and find out more about its journey!
Step 1: The recycled PET is cleaned and shredded. The result is then melted into granules.
Step 2: The granules are processed into yarn, which in turn is knitted into fabric.
Step 3: Re-belle is manufactured and then packaged in a sustainable manner.
Step 4: After hundreds of washes, the cloth is returned, recycled and processed into a raw material for a new product.
Step 5: The circle is complete! Re-belle gets a new lease of life as clothes, furniture or a PET bottle, for example.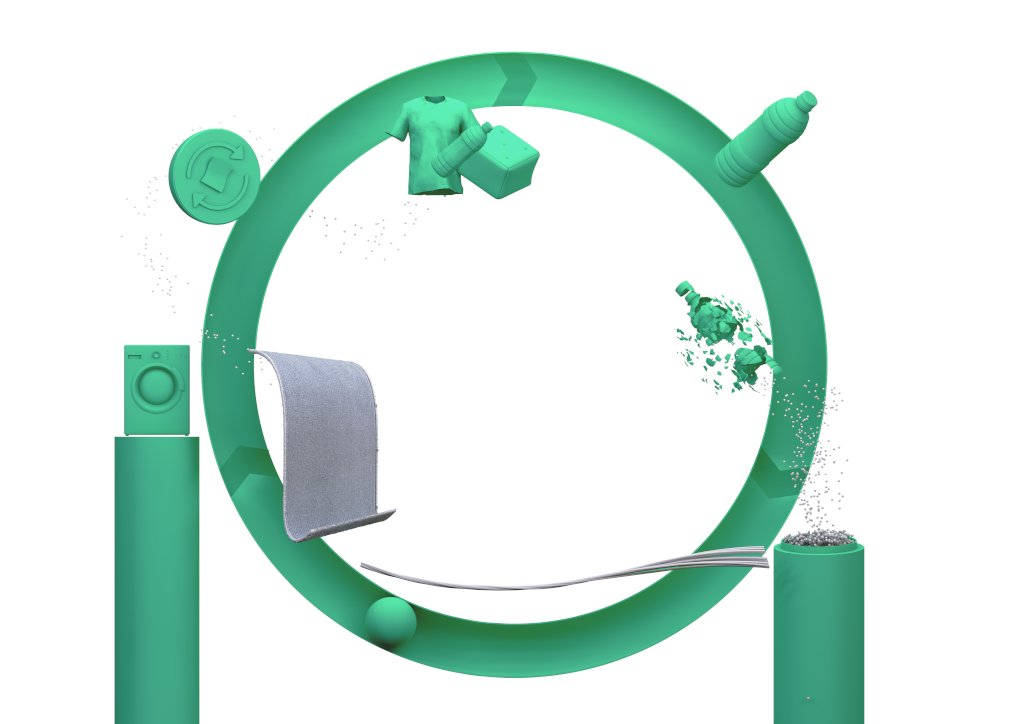 How will my microfibre cloth be recycled again?
After extensive use, Re-belle is ready to be recycled:
Option 1: Submit a return request online. Pack the cloths and drop the parcel off at a postal point (up to 30kg or 500 cloths).
Option 2: Request a collection box. Once the box is full, our partner (distributor) will pick it up.
Greenspeed will then send the cloths to Frankenhuis: a Dutch company specialising in sustainable textile processing that has already tested Re-belle microfibre cloths for chemical recycling.
Re-belle isn't just any microfibre cloth. Can you recognise the differences?
A re-bellious character
The pioneering microfibre cloth combats waste in the cleaning industry and the polluting textile industry. Textiles are manufactured, used and discarded on a large scale. Their production generates water pollution, huge CO2 emissions and mountains of waste. Re-belle returns to the circle after use, allowing this circular microfibre cloth to tackle these issues and more. Re-belle's circular journey allows it to reduce CO2 emissions as well as waste.

From green to white finish edge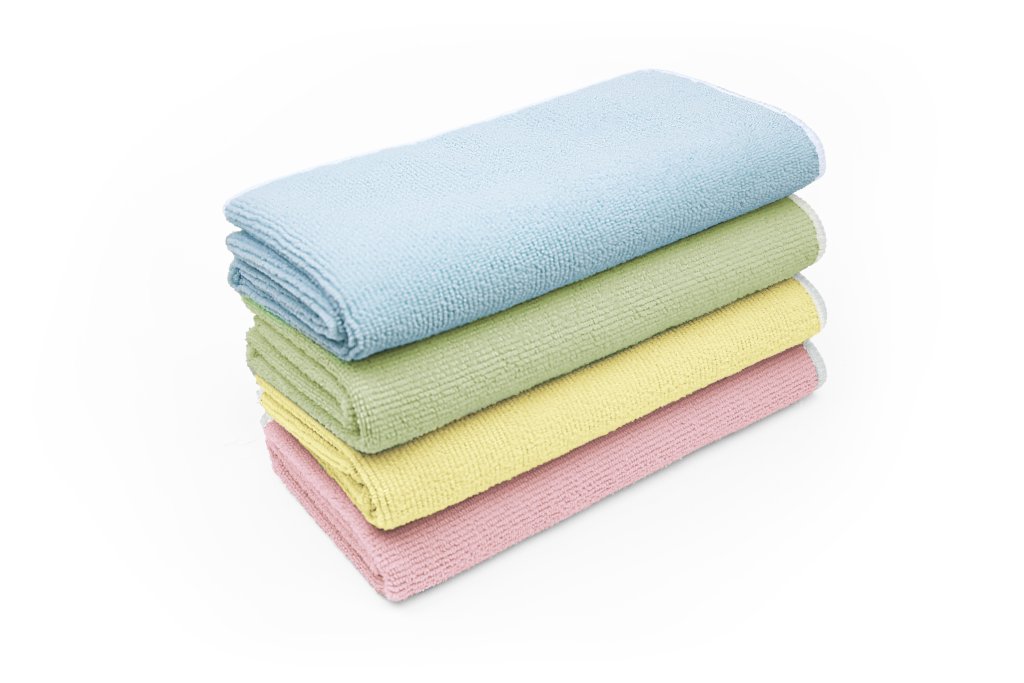 Re-belle also has a different look after we opted for a white trim instead of the recognisable green Greenspeed border. And that was a smart choice, as the light colours make the dyes less visible and the recyclate can be used more efficiently for a second life. The cloth is made of monomaterial and is therefore fully recyclable. It is only a small adjustment for us, but one which has a huge impact on the environment!