Mop2go - 45 x 13 cm - 10 pack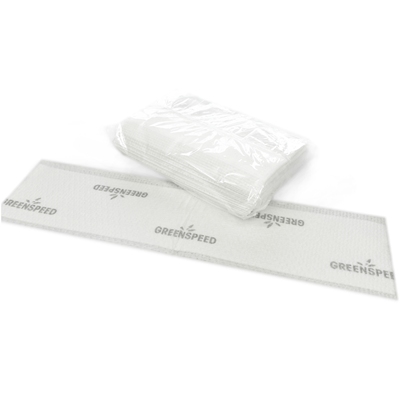 Disposable microfibre mop.
- For daily cleaning of hospitals and offices.
- Suitable for cleaning and desinfection or as absorption material.
- Triple layered: Barrier film, absorption layer & cleaning layer.
- Large absorption capapcity (till 10 x own weigth).
- Suitable for Click'M & Velcro frames.
Instruction manual
For damp cleaning of hard floors.
- Impregnate the mop with 100 ml water or cleaning solution. (We can offer a handy preparation bag).
- Wait 30 seconds before use. Unfold the mop, place the mop on the floor with printed side on top, place the frame onto the mop & start mopping.
- Remove the mop from the frame after cleaning & throw away.
Specifications
Reference: 3101260 Quantity per packing: 20 parcels Dimensions: 22.5 x 13 x 6 cm Weight: 150 g Barcode: 8716254005464
How to impregnate the Mop2go?

Moisten the mop with 100 ml of water or use the handy wetting bag (3101272), see instructions on the bag. Wait 30 seconds before use. Use the mop with the printed side at the top.

Mop2go, impregnate, disposable, moisten

How to attach the Mop2go to a Velcro flat mop frame?

Use the Dispoconnection Velcro Pad (article 3101030).

Mop2go, disposable mop