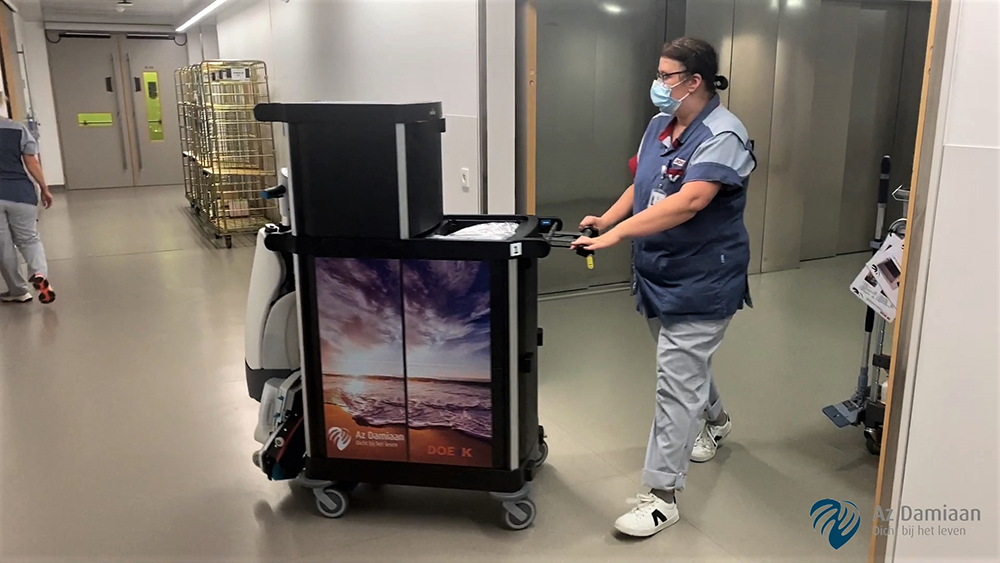 The hospital cleaning staff of AZ Damiaan in Ostend love the C-Shuttle Speed, which they regard as their 'Rolls-Royce'.
12/08/2021 - Floor Loos
Sara Moustie is a Facility Management staff member at the AZ Damiaan general hospital in Ostend. In her role as Quality Officer, she optimises processes and monitors the quality of service. The central cleaning team consists of 130 people who cover many miles with fully loaded cleaning trolleys every day. To support the staff, Sara was looking for a cleaning trolley that lightens the cleaning process. She spotted the customisable Greenspeed C-Shuttle.
Customised cleaning trolley with built-in motor
Sara: "We always change the sheets and clean the room thoroughly when a patient is discharged. We collect all the materials and bed linen in a cleaning trolley that is then transported through the hospital. This is physically demanding work, so I was looking for a cleaning trolley that was very easy to move around."
AZ Damiaan is a forward-looking hospital that focuses on sustainability and employee well-being. The hospital asked Greenspeed to put together a customised cleaning trolley that would ease the cleaning staff's physical workload. The solution is the C-Shuttle Speed: a C-Shuttle made of recycled materials and equipped with a built-in motor that automatically brings it up to speed. This avoids strain on the user?s body. An exclusive new development! And the hospital was the first customer to put it to the test.
Eye-catcher in hospital corridors
Sara: "The trolley is very much appreciated by the staff because it is very ergonomic, efficient and attractive. We opted for a custom C-Shuttle, which has become a real eye-catcher in our hospital corridors. Our staff are proud of the C-Shuttle, because the solid materials and our own branding have certainly attracted the attention of their colleagues and our visitors. They even call it their own Rolls-Royce!"
The C-Shuttle is a functional cleaning trolley with handy storage options. Its high-quality construction is sturdy and very durable. The modular design allows many options for customers. AZ Damiaan general hospital also took advantage of this special option.
Sara: "We believe that customisation of the C-Shuttle is a major plus, because it really showcases our logo. We were also given the opportunity to tailor the interior. We determined the compact layout ourselves, so the final product is fully adapted to our needs. The speed system allows our employees to work ergonomically and quickly, so everyone is happy."
If you have any questions or would like to go through the options for a customised C-Shuttle? Contact us at sales@greenspeed.eu.