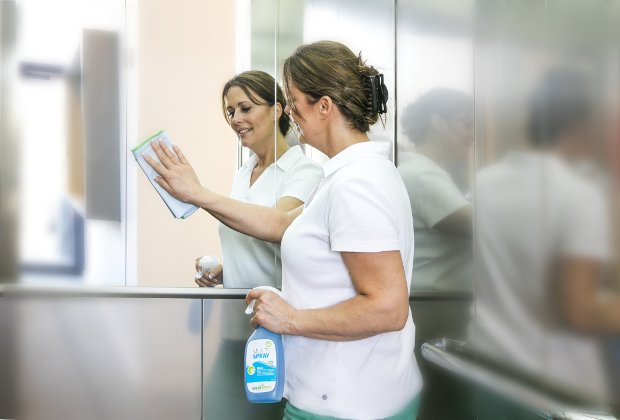 Cleaners are more likely to contract serious illnesses: it's time to take action!
16/03/2018 - Floor Loos
The risk of cleaners contracting serious illnesses is greater than previously thought. PhD student Laura Van den Borre (Vrije Universiteit Brussel) looked into the main differences between causes of death among cleaners, administrative employees and executives for her study titled "Health risks in the cleaning industry". Her study shows that mortality rates caused by lung diseases and cardiovascular disease are markedly higher among cleaners. Greenspeed analysed the study in detail, and is now seeking to encourage the entire industry to work together on a solution and focus on the importance of cleaners' health.
Study
Around four million people work as cleaners in Europe. That equates to just under two percent of the working population. Laura Van den Borre and Professor Patrick Deboosere conducted research based on mortality data for the Belgian working population over a period of 20 years (1991 to 2011). Based on death certificates, they analysed who died and what the underlying causes were. They looked into a total of 250,000 deaths in men and women aged between 30 and 60.
Serious risks
Cleaning is undoubtedly a tough job. The study shows that there are serious risks involved too. For example, the mortality risk for female cleaners (2001 to 2011) is up to 16 percent higher than for administrative employees and executives. The mortality risk for male cleaners was up to 45 percent higher. Even after excluding the damage caused by smoking, it appears cleaners are much more likely to suffer from chronic lung diseases and cardiovascular diseases. This may be in part due to the use of harmful cleaning agents.
Can this be avoided?
Working with less harmful, ecological detergents could ultimately save lives. These products are not just better for the environment: there are also claims that - being Cradle to Cradle certified™ - they are less harmful to cleaners' health. In addition, the use of detergents has already been drastically reduced thanks to microfibre technology. More and more companies and organisations are seeing ecological products and materials as a positive investment.
Michel de Bruin, CEO of Greenspeed, says: "The health of cleaners is extremely important and will be "the next big thing" in this sector. In the past few years, the sector has devoted a great deal of attention to the direct link between cleaning and health. Among other things, innovations in safety have been made by developing safe packaging."
"Efforts by the sector to develop more ergonomic systems relate more to the direct, well-known impact on health. Until now, too little attention has been paid to the long-term effects of cleaning and they have been underestimated all too often. The sector needs to start tackling these unprecedented, silent killers by focusing on healthier cleaning practices in the broadest sense."
"The cleaner's health must be the starting point for further developments. Greenspeed aims to provide a solution by offering Cradle to Cradle-certified cleaning products that do not contain any harmful substances. It is also essential to provide ongoing proper training for cleaning staff. This will prevent products from being handled improperly, and cleaners will be aware of the possible dangers."
"Greenspeed would like to appeal to the entire industry to pay more attention to this problem and work together on healthier cleaning practices."