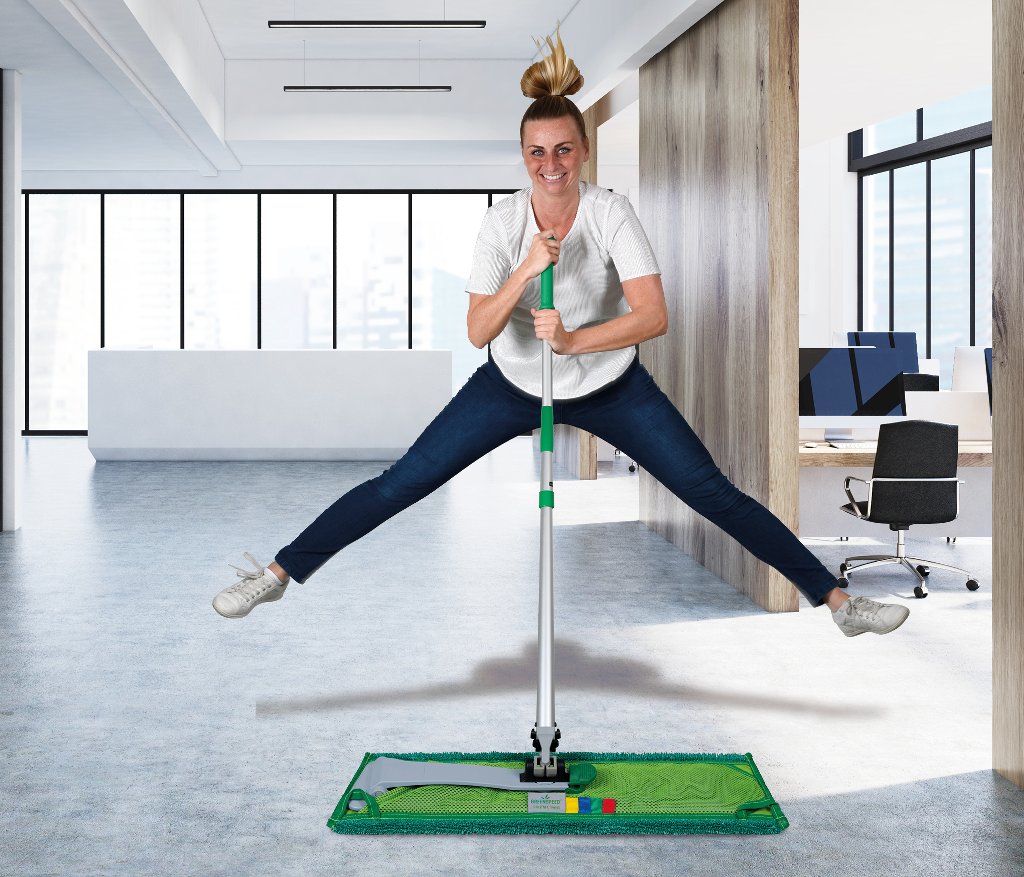 CLEANING EVEN FASTER AND MORE HYGIENICALLY? NOW IT CLICKS: GREENSPEED CLICK'M C
22/08/2017 - Floor Loos
From 4 September, cleaning floors is going to get a whole lot easier and more hygienic. Because that's when Greenspeed will be introducing cutting-edge technology that will confirm its leading status in the European ecological cleaning market once again. Better get used to the name already: CLICK'M C, an innovative, magnetic flat mop system with a capital C for comfortable, competent and clean.
Comfort in a few easy clicks
The CLICK'M C flat mop system makes cleaning floors easier than ever. You only need to slip the frame into the pocket of the mop, press the handle down and the magnetic fastening immediately locks the mop into place. Then it's ready to start cleaning!
When you're done cleaning, all you need to do is press the green button with your foot to release the frame and slide the used mop into the laundry bag without touching it. So you no longer have to put the mop on or remove it manually. In short, the magnetic CLICK'M C system is more user-friendly and hygienic than ever before.
Competent cleaning with the right mop for the right surface
The CLICK'M C system is compatible with three different Greenspeed mops. This means you can effortlessly clean every floor surface in the same easy, hygienic way.
Cleaning hard floors? The Twist Mop is perfect for damp-cleaning hard floors. The high-quality Greenspeed microfibre reaches over the edges, so that dirt doesn't stand a chance and is always removed. The Allround Mop adds a couple of important benefits. This mop can also be used dry to sweep away dust. Its unique qualities are especially evident in areas where ultimate hygiene is required. Additionally, the long fibre length is particularly well suited to cleaning uneven floors. Finally, the Basic Mop is the lightweight among Greenspeed mops, but no less suited to its task: hard, smooth floors are cleaned in the blink of an eye...
... thanks to the Greenspeed microfibres
The microfibres are optimally split thanks to a sophisticated process. This means that the microfibre products combine strong cleaning power with very high absorbency. Dirt is removed with a flick of the wrist, ensuring hygienic cleaning. The fibres have a maximum capillary effect.
Clean (as never before)
Hygiene requirements and health regulations are getting more and more stringent. Hospitals and care homes are particularly affected. The CLICK'M C system is the ideal solution. The frame is smooth and sleek, which makes it easy to clean. Dirt doesn't have a chance to stick. Last but not least, each mop has four ribbons in different colours. This is really useful to indicate which specific area it is to be used for.
The Greenspeed CLICK'M C system will be available from 4 September.
Do you want to test the CLICK'M C' Book a free demo at www.greenspeed.eu!