Concentrated washing- up liquid without perfume.
- Effective cleaning of all dishes, crockery, cutlery and glassware.
- Powerful degreasing.
- Just enough foaming action.
- Zero perfume.
- EU Ecolabel & Cradle to Cradle.
Instruction manual
Add 1-4 ml of Citop to 5L of warm water. Wash the dishes by hand. Allow heavily soiled items to soak for a while and then clean them using a sponge or brush. Rinse thoroughly and allow to air dry.
Specifications
Reference: 4003333 Quantity per packing: 12 bottles Dimensions: 9 x 6.5 x 25.5 cm Weight: 1150 g Barcode: 5407003310559
What does Cradle to Cradle mean?

Cradle to Cradle is a quality model on which products are assessed based on their positive contribution to people and the environment. The best known and key design principle of Cradle to Cradle is 'waste equals food', supported by two key philosophies: 'use of renewable energy' and 'celebrate diversity'.
Products are assessed in five categories:
- Healthy materials: The safety of a product is assessed based on the materials used in the product. A check is carried out on whether any prohibited chemical substances have been used.
- Recycling: Products are assessed on the reuse of materials, calculated with regard to the recyclability and renewability of the materials.
- Renewable energy: Encouraging the use of more renewable energy in manufacturing the product and that greenhouse gas emissions are restricted.
- Sustainable water policy: Companies have to demonstrate that they are using water in a responsible and efficient manner. The objective is to guide companies towards a sustainable water policy resulting in a production process that has a positive impact on water sources.
- Social fairness: Safeguarding the interests of all parties involved in the business, such as the employees, customers, the community and the environment

Cradle to Cradle, certificate, certification

What does the EU Ecolabel stand for?

The EU Ecolabel or "the Flower" (named after the logo with the flower and the stars) is the official European environmental label recognised by all countries of the European Union and by Norway, Liechtenstein and Iceland. It indicates which products are better for the environment without compromising on quality. The EU Ecolabel is reliable and offers certainty: all products and services bearing the label have been verified by independent bodies for compliance with the strict environmental criteria.

One of the strengths of the EU Ecolabel is that it takes into account the entire life cycle of a product, from extraction of the raw materials to the moment the product is discarded as waste.

For each product group, it is examined within which phase the impact on the environment is greatest. Criteria are then drawn up to reduce this impact. For a hand dishwashing detergent, for example, the impact is great when it ends up in the water; for a printer, it is the paper and energy consumption. That is why the criteria vary greatly for each product group. Products that reduce the impact on the environment throughout their life cycle are rewarded.

EU Ecolabel, certificate, certification

What materials are used to make the bottles and are they recyclable?

The Greenspeed 1 l, 750 ml and 500 ml bottles are made of a combination of 25% recycled plastic from consumers (PCR: Post Consumer Recycled) and 75 % PE (plant plastic) based on sugar cane instead of oil. They are perfectly reusable and recyclable.

bottle, packaging, can, plastic, recyclable, recycled, plantplastic, plantastic

What is Plantplastic and can the packaging be composted?

Plantplastic is a vegetable-based polyethylene (PE) plastic that we use in our bottles. Our bottles contain a mix of Plantplastic and recycled plastic from consumers (PCR: Post Consumer Recycled). By using Plantplastic and recycled plastic, we greatly reduce the environmental impact of our packaging. Thanks to Plantplastic, we can also use renewable materials, such as sugar cane instead of oil. The bottles are 100% recyclable, but CANNOT be composted because they are still plastic.

Plantplastic, Plantastic, sugar cane, compostable, packaging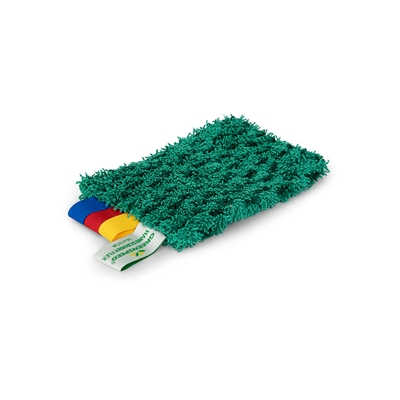 Handscrubby Flex - 14 x 10 cm - green
For removing hard stains without damaging the surface.
- Scrubbing power combined with microfibre for powerful stain removal.
- Washable alternative to a conventional scouring sponge.
- Nordic Swan Ecolabel.
- Available in green, blue and red.

Glass (polishing) Microfibre Cloth - 70 x 61 cm - blue
Durable, glass polishing cloth for quick and streak-free cleaning of cutlery, glass and crockery.
- Easily removes fingerprints and grease build-up on glass and mirror surfaces.
- Can be washed at least 600 times.
- Highly absorbent.
- Strong edge finish, so that the glass cloth does not shrink.
- Does not leave any fluff or fibres.
- Nordic Swan Ecolabel.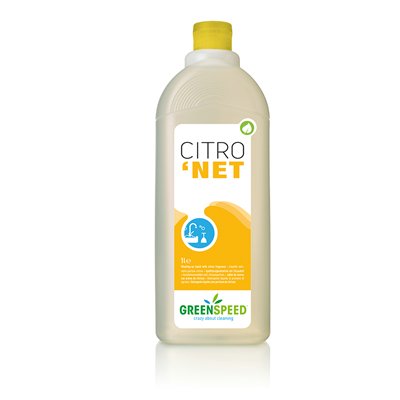 Citronet - 1 l
Concentrated washing- up liquid with lemon perfume.
- Effective cleaning of all dishes, crockery, cutlery and glassware.
- Neutral pH.
- Citrus perfume.
- Gentle to the skin.