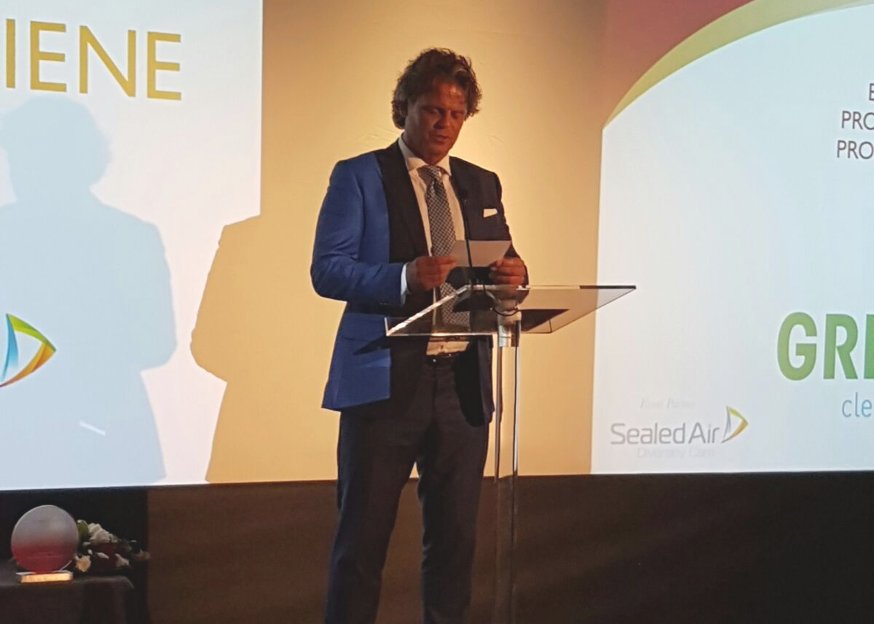 Greenspeed supports European Cleaning & Hygiene Awards
26/09/2016 - Floor Loos
This week they will be awarded for the first time ever: the European Cleaning & Hygiene Awards, a public recognition of excellence throughout the entire European professional cleaning and hygiene sector. Greenspeed is one of the ten companies and organisations that believe in these awards and financially support them. Michel de Bruin: "The mission of this competition is perfectly in sync with Greenspeed's own mission: ensuring that cleaning has a positive public image and a positive impact on the environment. Our aim is to repeatedly surprise the market with our innovations. In that respect, we and the organisers of the European Cleaning & Hygiene Awards also have a shared vision."
The professional cleaning sector provides work for millions of people throughout Europe and plays a crucial role in the areas of health, well-being, image, and perception. Michel de Bruin couldn't agree more. "We are seeing an increasing trend towards well-being. That's only logical. After all, a clean environment makes you feel happier, gives you greater pleasure in your work, and substantially reduces sickness absenteeism."
Excellence
Until now, there was no overall European awards programme that recognises and rewards excellence and high-quality standards in all work areas and at all levels. This competition has taken up this challenge. De Bruin: "I think it's great that the European Cleaning Journal is taking this initiative. The jury hands out awards in various categories. Of course, we support all of these, but we think one category is very special: the best initiative that improves the visibility and image of the professional cleaning sector - locally or on a broader scale."
Ceremony
The ceremony will take place on Thursday, 29 September, in Barcelona. The prominent European Cleaning & Hygiene Awards will be presented in the luxury five-star Hotel Majestic in Barcelona, providing fantastic business networking opportunities with influential persons, company owners and market leaders. In addition, the awards ceremony will provide educational opportunities, including roundtable discussions and a conference.
About Greenspeed
Greenspeed, a pioneer in smart cleaning solutions, was established over 20 years ago in the Netherlands. The microfibre cleaning system has made Greenspeed one of the leading brands on the European cleaning market. At the start of the year, Greenspeed took a big step forward when it acquired Ecover Professional, a pioneer in the development of effective environmentally friendly washing and cleaning products. As a result of the acquisition, Greenspeed now offers an all-in-one cleaning concept with sustainable microfibre systems and environmentally friendly cleaning agents. The Greenspeed product range has received the Scandinavian ecolabel Swan, the European Ecolabel, and the Cradle to Cradle certification label. The Greenspeed distribution network is active in twenty countries.