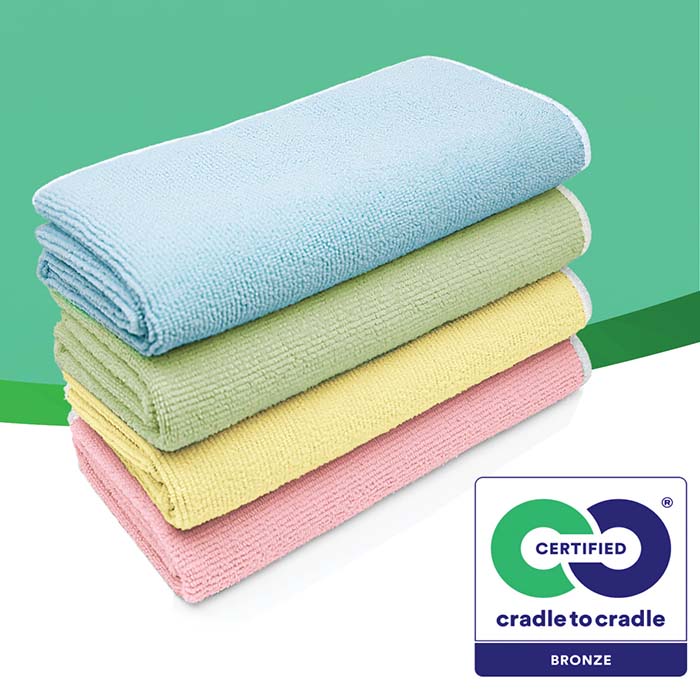 Re-belle excels as the world's first 100% circular microfibre cloth that has achieved Cradle to Cradle Certified® Bronze
07/12/2021 - Lotte Kenis
After an in-depth check of this top-quality cloth's entire life cycle, it has achieved Cradle to Cradle Certified® Bronze. Re-belle is made from recycled PET bottles and is 100% recycled and 100% recyclable. The cloth scores GOLD in the Cradle to Cradle 'Material Reutilization' category because it fits in nicely with the 'design for recycling' strategy. It is the first microfibre cloth in the world to fit perfectly in the circular economy and to have achieved a Cradle to Cradle® certificate.

View range
First circular microfibre cloth Cradle to Cradle Certified® Bronze
Greenspeed has many products with an EU Ecolabel and Nordic Swan certification and no fewer than 35 Greenspeed references have been awarded Cradle to Cradle Certified®. After the Cradle to Cradle Products Innovation Institute verified the materials used, the Original microfibre cloth achieved the Bronze Material Health certificate this year. Greenspeed has surprised the market with Re-belle. Re-belle is a unique innovation that is fully recyclable thanks to its mono-material. It is therefore a great addition to the Greenspeed range with its Cradle to Cradle product certificate.
Leading the way in sustainable business
Greenspeed is committed to sustainability, quality, health and circularity. The assessment of its products is an incentive to innovate the cleaning industry and is also the ultimate proof of reliability. The Re-belle production site has already been independently audited in terms of social compliance and its responsible production adheres to all ILO standards. By using the cloths, you can make a significant contribution to the environment. Did you know that if you use 30,000 Re-belle cloths, you will have saved enough CO2 to drive around the earth in a car? The recycling process also reduces the amount of waste on earth.
Waste prevention is the future
Europe aims to achieve a circular economy by 2050. Companies should be making sustainability the new norm throughout their production process. This has been a given for Greenspeed for years. That is why the company is already thinking proactively about a forward-looking approach to making cleaning circular. By including its customers in the circular story, Greenspeed aims to increase their positive impact on people and the environment.
The sustainably packaged Re-belle is made from PET bottles and is reprocessed after use into clothes or a new bottle, for example. This strategy significantly tackles waste in the cleaning industry and the polluting textile industry.
To find out how a PET bottle is transformed into a Re-belle microfibre cloth, watch all 10 steps.