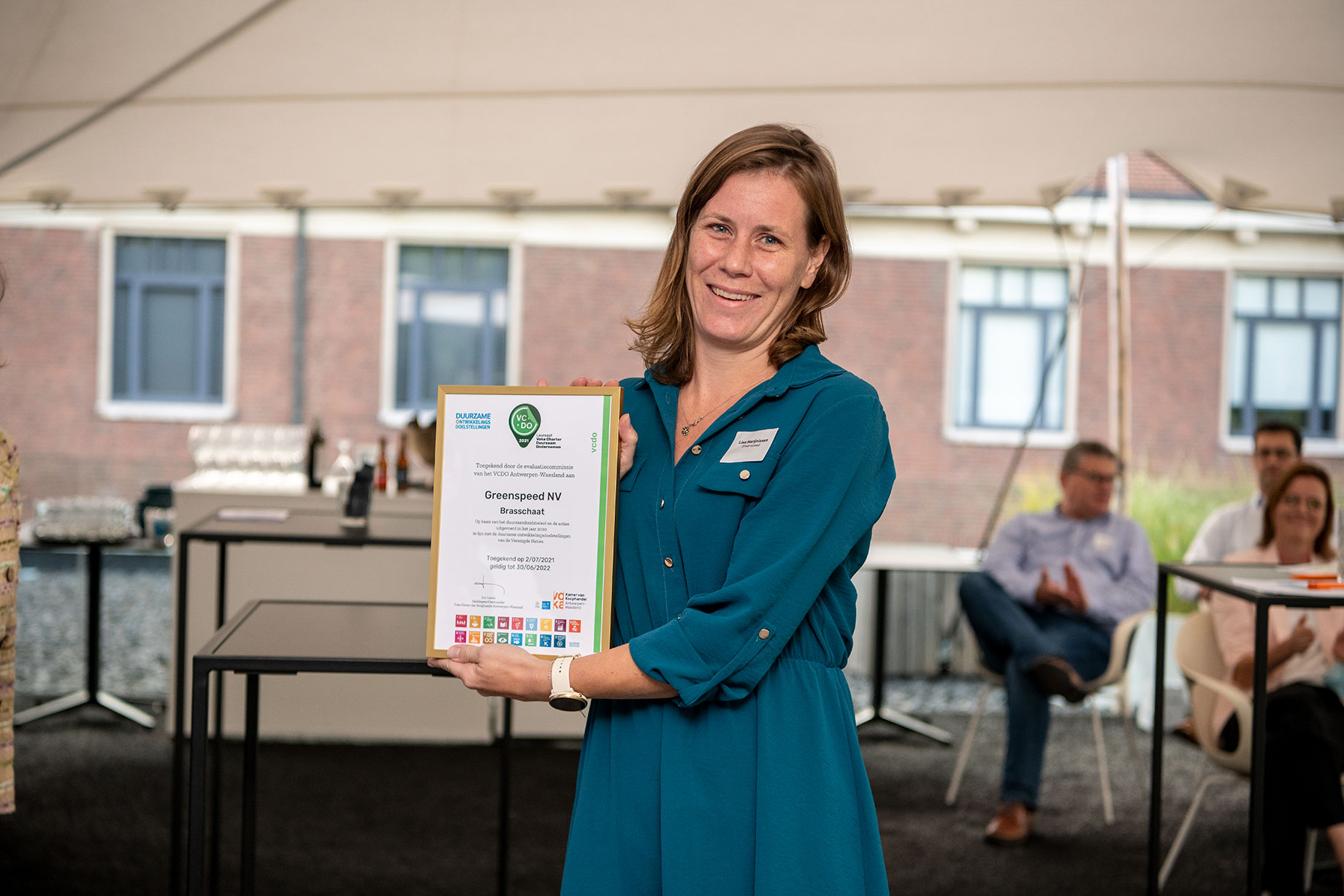 Greenspeed obtains Voka Charter Sustainable Entrepreneurship thanks to sustainable activities
20/09/2021 - Lotte Kenis
Sustainable Development Goals
At Greenspeed, sustainable business practices have long been on the agenda. To accelerate the transition to even more sustainable business operations, Greenspeed's actions were assessed in line with the United Nations Sustainable Development Goals (SDGs). Greenspeed received the Voka Charter for Sustainable Entrepreneurship on 16 September. As the largest entrepreneurial network in Flanders, Voka offers companies guidance in growing in a socially responsible way.
"By formulating specific actions in line with the universal SDGs, we are consciously playing our part in improving huge global problems. Voka's recognition is a great honour, as it proves that our actions are focused on a sustainable future", says Lies Marijnissen, Product & Sustainability Manager at Greenspeed.
The SDGs that Greenspeed embodies are a seamless fit with the company's mission and vision:
SDG 3: Good health and well-being
SDG 6: Clean water and sanitation
SDG 8: Decent work and economic growth
SDG 12: Responsible consumption and production
SDG 13: Climate action
SDG 17: Partnerships for the goals
In addition, Greenspeed already works on manufacturing ecological products that best fit the circular philosophy and social equality in the workplace.
Sustainability targets for a green future
Cornerstones of Greenspeed's activities are the global water system and the well-being of those involved in the industry. As a major supplier in the professional cleaning industry, Greenspeed sees it as its role to make a positive contribution in this regard. CO2 reductions across the board, a Code of Conduct for suppliers, a workshop on increasing resilience among the team, and supporting like-minded charities are items currently on its agenda. This year, Greenspeed also launched Re-belle onto the market ? a 100% circular, microfibre cloth that significantly reduces CO2 emissions. This Charter makes Greenspeed stand out from the crowd in the industry and proves beyond doubt that taking a few small actions can make a huge difference.
Lies Marijnissen: "These actions are just the start of our contribution to a sustainable future. We will continue our corporate social responsibility, taking into account the SDGs that we strive to achieve on a global level by 2030."