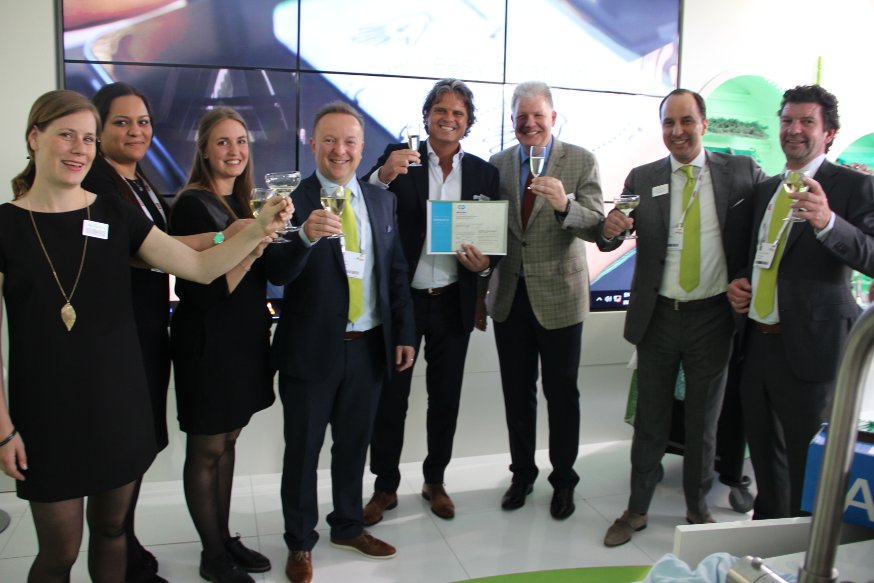 Greenspeed achieves Cradle to Cradle Certified™ at GOLD level
12/05/2016 - Floor Loos
At the recent international trade fair show ISSA/INTERCLEAN in Amsterdam, Greenspeed was awarded a Cradle to Cradle Certified™ GOLD mark for its kitchen and interior cleaning product lines. "This Gold certification rewards and celebrates our efforts to develop innovative, powerful, sustainable cleaning products for the worldwide cleaning industry", says Greenspeed CEO Michel de Bruin proudly.
The unique Cradle to Cradle Certified™ mark is awarded by the Cradle to Cradle Products Innovation Institute, an international and independent nonprofit organisation. Cradle to Cradle certified™ products program is based on a quality standard that focuses on continuous improvement. Products that meet the criteria can receive a certificate for one of five levels: BASIC, BRONZE, SILVER, GOLD or PLATINUM. The institute is led by an independent board of directors and has its headquarters in San Francisco, California.
Mr De Bruin went on to say: "In order to maintain brand recognisability, we retained elements of the Greenspeed logo (the three leaves) and colour (green). We are convinced that the new logo is sufficiently recognisable and that it is very much in line with our newly developed brand personality, namely competent, cheerful, imaginative, sophisticated, and sincere."
Renewed recognition
Michel de Bruin: "Following the Nordic Swan ecolabel certification for our microfibre mops and Handscrubby Flex in 2014, this Cradle to Cradle Certified™ mark is another testament to Greenspeed's sustainable and responsible manufacturing process. The gas and electricity we use in our manufacturing is 100% green, and our production process also makes responsible use of water. To achieve the GOLD level, a business also needs to be socially responsible in terms of manufacturing and marketing & sales."
Ecological philosophy
The Cradle to Cradle Certified™ mark is also completely in line with Greenspeed's takeover of Ecover Professional last December. De Bruin: "Ecover is a pioneer in the development of ecological washing and cleaning agents. Another exceptional aspect is that the philosophies of Greenspeed and Ecover Professional match each other perfectly. With the new Greenspeed, we aim to propagate the ecological philosophy more widely and powerfully. To us, the Cradle to Cradle Certified™ GOLD mark is the ultimate confirmation of our mission."