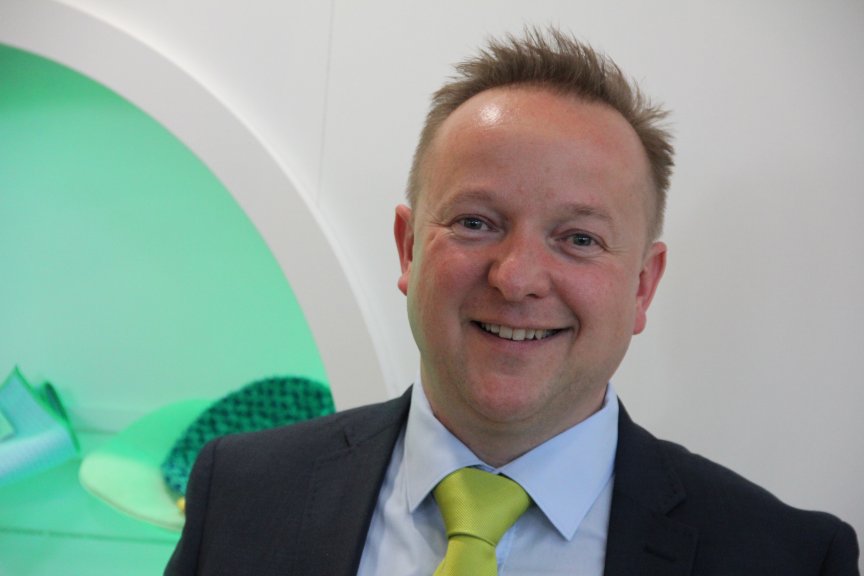 Johan Tops looks back on the first Greenspeed webinar: "The low touch economy has a major impact on the world of cleaning"
15/05/2020 - Floor Loos
"This global crisis provides extra leverage for change", says Johan Tops, Sales Director of Greenspeed, which is celebrating its 25th anniversary this year. The innovator in hygiene concepts and solutions introduced the microfibre cloth to the professional cleaning industry 25 years ago. It took a while for the industry to embrace this innovation, but nowadays it is very grateful for this development.
Extremely grateful perhaps, because in these coronavirus times, high-quality microfibre products are absolutely indispensable. "I would like to take you on a journey to the world 2.0 and the cleaning trends you can expect in this new world", Johan says to introduce the first Greenspeed webinar together with Floor and Lotte. The international Greenspeed team is committed to contributing to this fast-changing world every day, with products, concepts and solutions that are characterised by high quality, hygiene guarantees and healthy use.
"Everything is new. New habits, new rules, new policies, new procedures. They are reflected in our behaviour, circumstances, limitations and measures, but also in the hygiene regulations and developments. Will an app warn us when someone with COVID-19 is nearby?" "eHealth is becoming part of all our lives very quickly", Johan says.
Suddenly this has become part of our everyday lives
How will we use lifts in large office buildings? And what about public transport? How will we organise mass gatherings, such as concerts, festivals and sports events? Do cinemas and theatres still have a future? Johan asked the Dutch and Flemish cleaning professionals - the webinar participants - these questions as well as questions directly related to the hygiene sector. One of the live polls on how the occupation of large offices will evolve by the end of 2020 showed that the majority of webinar participants expect a reduction in occupancy of 25% to 50%. But there is hope, because despite the enormous impact of the coronavirus crisis on market capitalisation, cleaning is still necessary in all segments. Greenspeed's 'store? has also been affected by the crisis: its hand soaps and disinfectants are experiencing impressive growth, but there are far fewer orders for investment goods such as trolleys.
What will the world 2.0 look like?
Of course, hygiene is becoming far more important. Indeed, it already is today. Another notable trend the Greenspeed team has noticed is the 'low touch economy': a contactless or low-contact world that is characterised by a high level of social distancing. "Everything is becoming contactless. We were already familiar with contactless payments, but over the past eight weeks we have also seen other huge changes in our behaviour: we have worked from home, bought our goods online with home deliveries, and significantly reduced our transport and travel with far fewer train, bus and tram journeys than before. This coronavirus outbreak will have a lasting impact on our world", Johan adds.
What cleaning solutions and upward trends can we expect?
If we translate the low touch economy into the new world of cleaning, the Greenspeed team sees both negative and positive trends. Johan: "Cleaning 2.0 is characterised by less office occupancy, less hospitality and fewer mass and trade events. This means smaller surface areas and fewer locations and occasions for cleaning." What about the opportunities? An increase in the level of cleaning, for example in public areas.
Johan: "In the past cleaning was often regarded in a bit of a negative way as simply a cost, but now it has evolved into an investment and this will continue to be the case in the future. People are investing in personal protection and better products. But they are also investing in a higher frequency of cleaning in order to meet the hygiene requirements." There is also palpable positivity now that cleaners are respected more. "This in turn is leading to more confidence and self-assurance among cleaners, faster implementation of contactless and healthy cleaning solutions and other cleaning concepts for small offices and home offices, and the B2B light concepts: Greenspeed is introducing the SoHo packs for small offices and home offices."
European ecolabel for cleaning companies
Will stricter general cleaning and hygiene requirements lead to formal hygiene certificates? Will the well-known Bovag warranty in the automotive industry get an equivalent in the cleaning industry? Johan is in favour of this. He enthusiastically explains: "A cleaning services label or certificate can help take away some fears in the world." Johan refers to a European ecolabel for cleaning services: "An ecolabel for high-quality, ecological and efficient cleaning services has been available for a few months now. Greenspeed has drawn up a white paper on how cleaning services companies can obtain an ecolabel. This white paper can be obtained from the Greenspeed team or from the chat service on the website."
Achieve cleaning success in the low touch economy
There are opportunities for success, and Greenspeed would not be Greenspeed if the global innovator did not come up with some cleaning 2.0 solutions. To improve cleaning, well-being and hygiene, Greenspeed offers a range of high-quality products and provides contactless and healthy cleaning. Johan mentions four examples: the Greenspeed microfibre cloths, the Probio range, the Click'M C flat mop system and the plant-based disinfectant Lacto Des, which is hazard-free under the CLP Regulation. "Greenspeed microfibre cloths and mops are characterised by their split fibres with capillary action. As a result, they are highly absorbent and their effective, fast cleaning results save cleaning agent, water and time."
The Probio range that was introduced last year for multi-purpose, sanitary and floor cleaning is hugely successful. "Probiotic cleaners leave an army of good bacteria behind on the cleaned surfaces. These good bacteria will continue to have an effect for days and will absorb dirt from deep inside the surface. They also stop any new dirt from sticking as easily. They are an excellent element of defence in safe cleaning and they offer a good response to stem the fears of building visitors."
We all know that disinfection is a trending topic. "The recently launched Lacto Des is a disinfectant spray that can be used to disinfect contact surfaces such as door handles. In addition to disinfection, good daily cleaning remains crucial. This will also improve the effectiveness of the disinfection", Johan explains.
A fourth example of cleaning 2.0 is the Click'M C mop system: "the magnetic action of this unique Greenspeed floor mop system ensures that cleaners do not have to touch the dirty mop in order to remove it." This non-contact innovation leads Johan back to the low touch economy, so the webinar has come full circle. We are looking forward to the future!
Chat about the new normal
"The new normal is here to stay until a vaccine has been created and herd immunity has been achieved", Johan remarks. Does that offer reassurance? Are we getting used to things? In the meantime, there is still a great need for knowledge and advice. That's why Greenspeed has added a live chat option to the Greenspeed website. You can use the live chat to ask a question at any time. The team will answer your question as soon as possible.