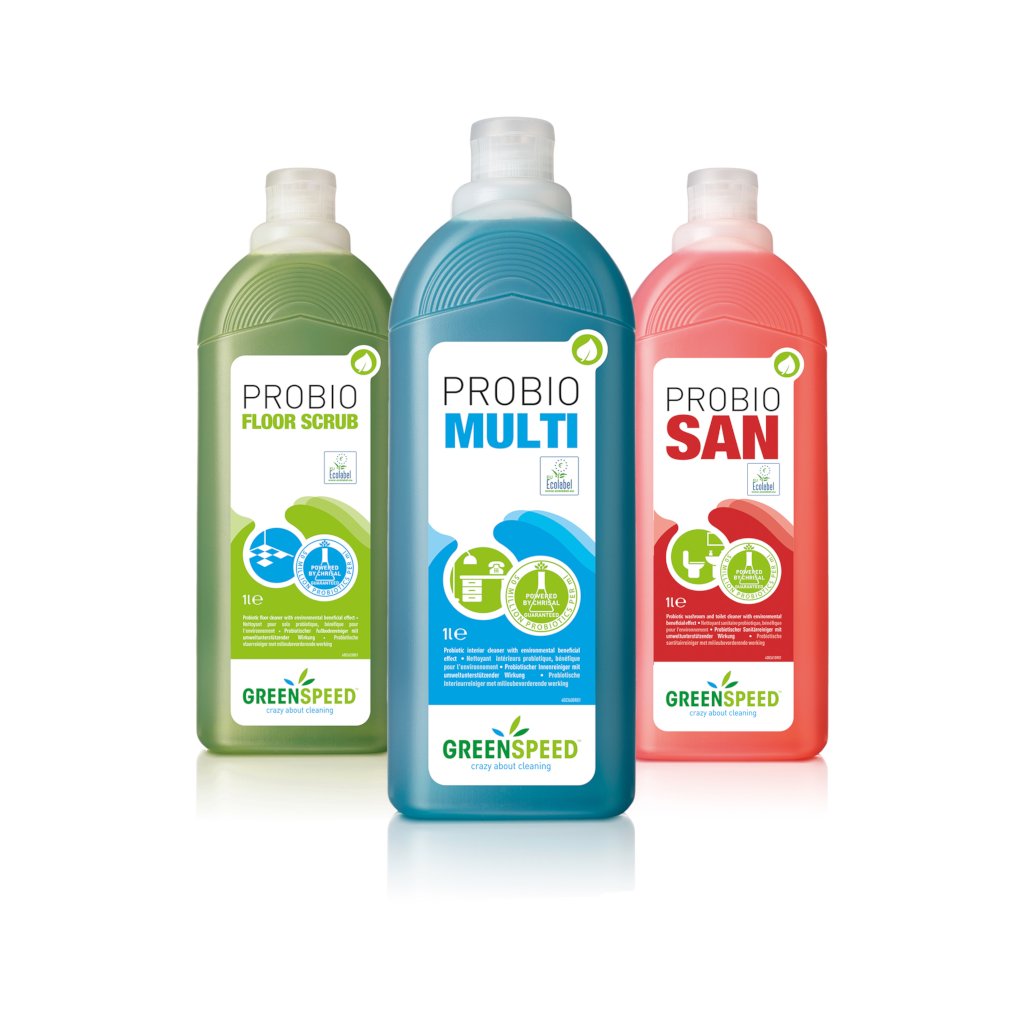 Greenspeed introduces probiotic cleaning agents
11/06/2018 - Floor Loos
Greenspeed, producer and supplier of sustainable cleaning systems, is introducing a new line of probiotic cleaning products on the market. Greenspeed will introduce the new probiotic range for the first time at the international trade show Interclean in Amsterdam. The products perfectly coincide with Greenspeed's ambition in striving to make a positive impact on people and the environment. They ensure optimal cleaning and are the ideal solution for tackling odour problems in sanitary areas. Are you curious about how probiotics work?
With environmental beneficial effect
The probiotic products consist of benign micro-organisms of organic origin. These good bacteria battle organic dirt and the odours. Once these products have been used, they re-enter the environment where they actively contribute to water purification and maintain a natural microbial balance. Probiotics are not just environment-friendly, they enrich the environment!
Why probiotics?
Besides the green aspect of these detergents, there are many more advantages when compared to traditional agents:
Thorough and efficient: Probiotics remove organic grime deep down in the surface. This ensures a lifelong clean result. Greenspeed's probiotic line meets all of the strict quality requirements of the EU Ecolabel. It is the first probiotic range that has been given the EU Ecolabel.
Odours be gone: The bacteria are capable of absorbing odour molecules. They also remove substances that the bad bacteria can turn into foul odours. Probiotics are therefore both preventative and curative!
Safety first: Compared to many chemical cleaning products, the probiotic products are very safe to use. These agents, based on good bacteria, are completely free of hazard symbols.
About Greenspeed
Greenspeed was founded 35 years ago in the Netherlands and offers a comprehensive range of sustainable cleaning products and innovative microfibre products. With these intelligent cleaning solutions, Greenspeed strives towards a positive impact on people and the environment, currently concentrating on the concept of circular cleaning. This approach goes beyond just the products. In everything Greenspeed does, engagement, expertise, innovation and reliability are key. Greenspeed's product range is certified by the Scandinavian Nordic Swan Ecolabel, the EU Ecolabel and the Cradle to Cradle™ certified label. Greenspeed is active globally in over 20 countries.