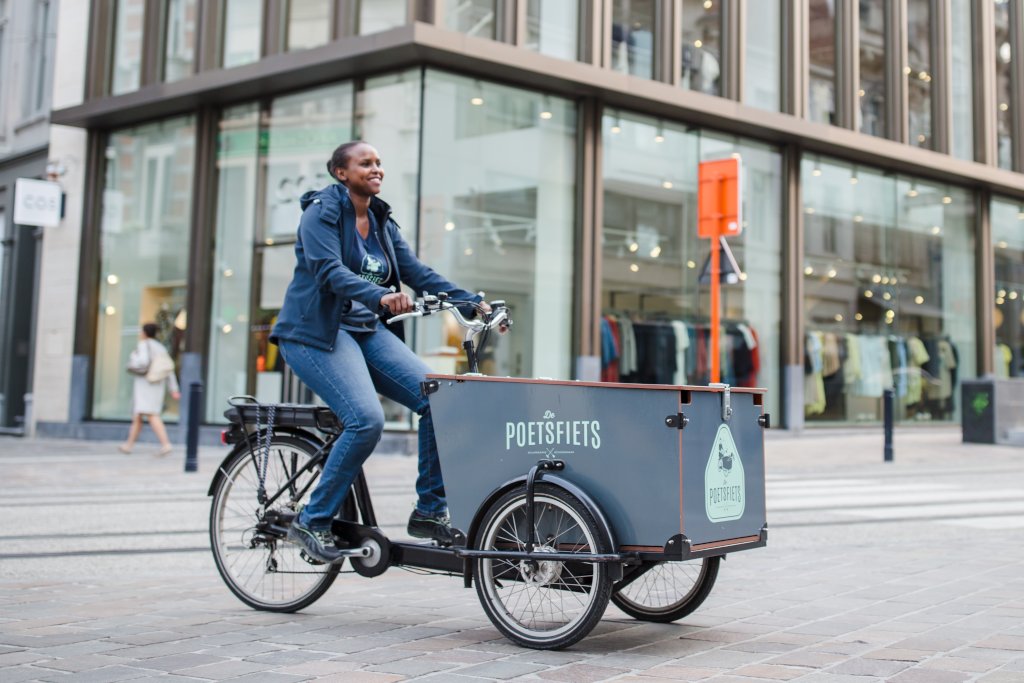 "DE POETSFIETS" opts for Greenspeed
25/10/2017 - Floor Loos
The aim of De Poetsfiets is simple: to clean in a sustainable way. The company achieves this aim by using trikes and electric vehicles to get to its clients in the Belgian city of Ghent. This means zero CO2 emissions and no more getting held up in traffic. They also clean using Greenspeed's eco-friendly products and their employees wear clothes made from organic cotton.
Zeinab Mohamed and Kjell Vanderhaeghen are the founders of this inspired start-up. Before she set up De Poetsfiets, Zeinab had worked in the cleaning industry for several years. She had to use her own transport to get to her clients. The traffic in and around the centre of Ghent made this hard work and it was often difficult to find somewhere to park. In a nutshell, she wasted a lot of time getting from A to B.
The inspiration for De Poetsfiets came as she saw more and more mothers using cargo trikes to take their children to school. She had the idea of replacing the children with cleaning materials and cycling from one client to another. "I realised the advantages straight away: No wasting time in traffic, no hunting for a parking space or parking fees to pay, everything I needed to hand and getting some exercise as I work," says Zeinab.
Zeinab hopes that De Poetsfiets will give this traditional sector's image a boost. Inspired by the current trend for start-ups, they have gone for a fun name and solid branding. Efficiency and sustainability are very important to De Poetsfiets and they are keen to spread the word. They deliberately chose to work with eco-friendly products. "Nowadays, there's no getting away from the fact that if we want to preserve our planet for future generations, we have to change the way we live. We made a conscious decision to use transport that doesn't emit harmful gases, we wear clothes that are made from organic cotton, we print on recycled paper and, of course, we work with 100% organic products. That way, we're doing our bit," says Zeinab.
That's why De Poetsfiets uses Greenspeed products. "Greenspeed offer a very wide range of products and they also have a Cradle to Cradle line, which clearly we prefer. Greenspeed's products are also extremely easy to use and a little more sustainable. And since we try to look to the future in our work, we also like the fact that Greenspeed constantly brings out innovative new products to make cleaning easier or save water. That is a crucial aspect of sustainable cleaning too," says Zeinab.
Currently, they use the Multi Daily and San Daily cleaners, supplemented by the Forte range, amongst other products. They also use the microfibre cloths, the Handscrubby Flex and the telescopic handle. The telescopic handle is perfect for storing in the trike. Since they don't use cleaning trolleys, the Worx Belt saves them a great deal of walking back and forth. "And I'll tell you what's really great, the Foxduster! Some of our clients have even asked us where they can buy them themselves!"
What is it they like so much? "It's mainly the quality of the products. They are that little bit more durable and remove dirt more easily. And the detergents are also really effective. Not only that, but they are also easy to pour and are certified Cradle to Cradle. When I was working with conventional chemical products, I often had trouble with dry hands, which was quite painful. That is no longer the case," says Zeinab.
De Poetsfiets has a rosy future ahead of it. Zeinab could never have dreamt that the concept of De Poetsfiets would take off so quickly. Everything went so fast that barely three months on, they already needed more cleaners. Zeinab hopes that their client base will continue to grow. De Poetsfiets is currently in the process of expanding its operations to other major cities. Zeinab sees it like this: "The biggest challenge will be rolling out a project that started locally at national and maybe even international level, and developing it into a stable business. A business whose clients are happy, whose employees enjoy their work and respecting the environment wherever possible."
About De Poetsfiets
De Poetsfiets is a mobile sustainable cleaning service that operates in the city of Ghent in Belgium. They get to their clients by trike or electric car. De Poetsfiets also uses 100% organic products only. Their clients include offices, property management companies, retailers and restaurants, to name but a few.