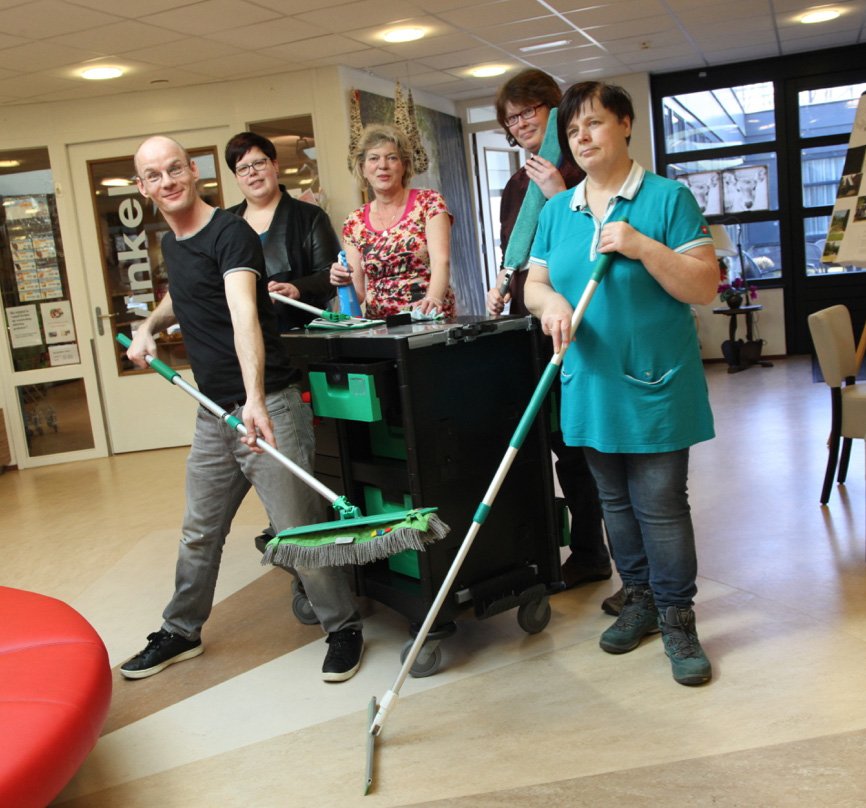 CARE CENTRE Lentis Chooses New Greenspeed C-Shuttle
29/03/2017 - Floor Loos
Care centre Lentis chose to implement the entire Greenspeed range: the microfibre products, the Cradle to Cradle detergents and the newly launched C-Shuttle cleaning trolley. For the supply of cleaning materials and products, Lentis organised a tender and BOMA Netherlands won with Greenspeed's innovative and environmentally conscious products. The collaboration among the three parties - Lentis, BOMA and Greenspeed - is founded on service, sustainability and innovation: "At this location we work with the latest materials and products," says Esther Sijbom, Team Leader for Lentis Service Operations.
"We are highly aware that hygiene at a healthcare facility is enormously important. That is why we are very proud of and pleased with this collaboration", says Michel de Bruin, CEO of Greenspeed. The choice for Greenspeed was well-considered and quite logical. "We work with the latest materials and products, and in everything that Lentis does, hospitality comes first. Customers, visitors, employees: everyone should feel welcome here. Having a clean environment is a part of that", explains Esther Sijbom. Kurt Lambertz of BOMA was the one who introduced the Greenspeed Cradle to Cradle products. "They appealed to us immediately, although the staff was surprised at first by how well the ecological cleaning products worked. Everyone is now a fan of these products."
Ease of Use
About choosing the C-Shuttle, Sijbom adds: "In the tender process we considered four candidates. Greenspeed and BOMA won the test and achieved a 100% score. The ease of use in particular was considered the C-Shuttle's main advantage by our cleaners. Furthermore, we often work with open cleaning trolleys, with all the attendant dangers of cleaning products in the psychiatric care environment. We must be able to guarantee the safety of our clients and employees at all times. With the C-Shuttle, we can do just that, thanks to its enclosed system. The C-Shuttle was certainly also the winner when it came to appeal. We at Lentis like to emphasise hospitality and appeal."
Innovative cleaning trolley
The newly launched C-Shuttle is an innovative cleaning trolley that is Comfortable to use, Creative and Chic in design, Compact and Clean and with a Classic movement. The C-Shuttle is made of 75% recycled plastic. All of the materials used are of the highest quality and are completely recyclable. The C-Shuttle is fully lockable and can be personalised with your own design and arranged for your comfort.
About Lentis
Lentis was founded in 1873 and offers mental health services, forensic healthcare and care for the elderly in the three northern provinces of Groningen, Drenthe and Friesland. With over 4000 employees, Lentis professionals provide psychiatric care to 25,000 people every year. Service Operations, comprising a varied group of 350 employees, is a support service managed in-house.
About Greenspeed
Greenspeed, a pioneer in smart cleaning solutions, was founded in the Netherlands over 20 years ago. Its microfibre cleaning system turned Greenspeed into one of the premium brands on the European cleaning market. In 2016, Greenspeed made a big step forward when it took over Ecover Professional, a pioneer in the development of efficient eco-friendly detergents and cleaning agents. Thanks to the takeover, Greenspeed now offers an all-in-one cleaning concept with sustainable microfibre systems and eco-friendly cleaning products. The Greenspeed product range is certified by the Scandinavian eco label Swan, the European Eco label and the Cradle to Cradle Certified™ label. The Greenspeed distribution network is operational in twenty countries.