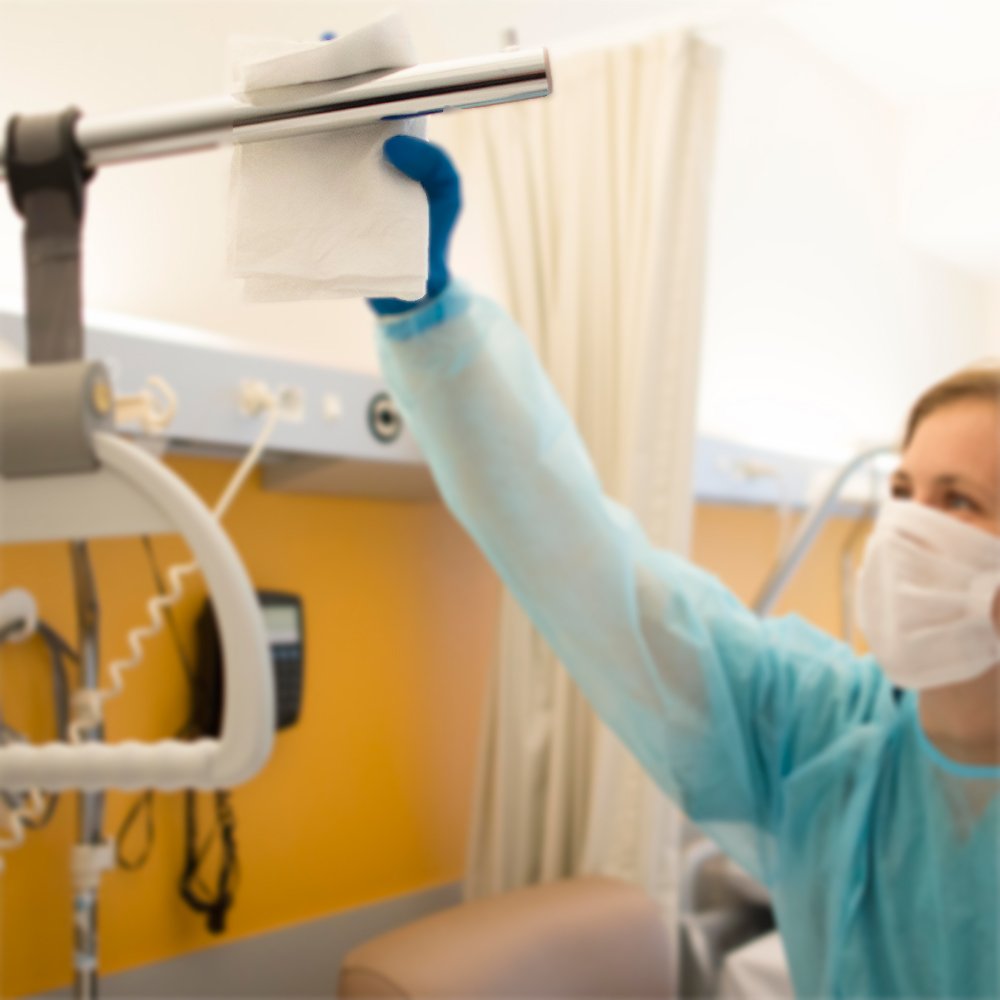 GREENSPEED INNOVATES, HOSPITAL HYGIENE BENEFITS!
15/03/2017 - Floor Loos
The professional cleaning and hygiene industry is now facing more exciting challenges than ever. Not only are manufacturers expected to continue to improve their range of dirt busters relentlessly, new introductions also need to meet various strict criteria in terms of cleaning power, safety, efficiency and ease of use. Greenspeed is not the new broom that sweeps clean in that regard. In 2016 Greenspeed launched the C-Shuttle, a trolley made of 75% recycled plastic, which is unique in the Benelux region. Today, only six months later, the company is launching a high-quality range of innovative disposable mops and cloths.
MOP2GO and WIPE2GO
By introducing these brand-new disposable mops and cloths, Greenspeed has nipped any fears that hyper hygiene is expensive and time-consuming in the bud. "The MOP2GO & WIPE2GO are highly absorbent (up to 10 times their own weight) and extremely easy to use," says Greenspeed CEO Michel de Bruin. "A surface area of up to 20 m² can be hygienically cleaned with just 100 ml water, the content of a large tube of toothpaste or a large bottle of perfume." The fact that Greenspeed likes to come up with new innovations is also reflected in the unique, three-layer design of the MOP2GO: a layer that acts as a high-performance barrier against dirt and bacteria and distributes moisture evenly, an absorption layer and finally a powerful cleaning layer.
Tested and very much approved
The cleaning power, efficiency and user-friendliness that characterise these Greenspeed innovations make them the ultimate weapons against dirt and sources of infection. "They are ideal for spaces with high hygienic requirements, such as contaminated hospital rooms," adds de Bruin. "We immediately tested them in the field in a case study at the CHIREC hospital in Braine-l'Alleud (Belgium)."
Active use in a hospital environment is the ultimate test for (disposable) cleaning or hygiene products, because it challenges the products' antiseptic and cleaning capabilities. "Of course, we were very curious to start working with the MOP2GO and WIPE2GO," says Eva Ozer of cleaning company IRIS CLEANING. "We were not disappointed: so much was taken into account when the products were developed. Even the number of mops per package was thought through: this is more important than one might think! As soon as the package foil is opened, there is a chance of contamination. That is why hospital hygiene follows the rule that says that once packaging has been opened, the contents must be used as soon as possible. We were very relieved to see that Greenspeed reduced the number of items in each package considerably to avoid waste."
The MOP2GO and WIPE2GO also scored highly in terms of the strict moisture and dirt absorption requirements set by Eva and her colleagues. "Just one product item has sufficient capacity to clean an entire room (unless the room is very dirty, at a geriatric ward for example). The mops and cloths ensure a good, thorough clean, particularly on surfaces with blood or grease stains," adds Eva. "When we used them for the first time, it was quite an adjustment to add the right amount of water - 100 ml is very little. This will really benefit the hospital's water bill. Fortunately, that is something Greenspeed also took into account: we received a special dosing bag with markers clearly indicating the amount of water required to dampen the provided number of mops or cloths."
"A test case in such a challenging environment confirmed that the time and resources Greenspeed invested in its research and development process were well spent," de Bruin continues. "If our products do well there, they will do well everywhere."